4:55 p.m. – Doesn't Matter
Featured in Muncie Power Quarterly, Issue 2, 2018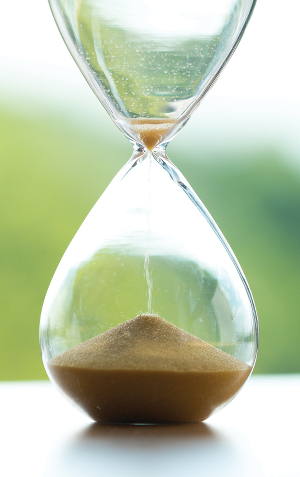 A company location since 1959, Muncie Power Products' warehouse distribution center in Muncie, Indiana, is the oldest company location in existence today. Once company headquarters, the warehouse distribution center plays an integral role in the company's distribution to help ensure customers receive the product they need, when needed.
Leading the team at the warehouse distribution center is Distribution Manager – Muncie Ryan Roysden. Having held various positions, Roysden has a strong grasp of the location's processes – which now helps him within his position as distribution manager to know what needs to be done and when. This is especially important as the warehouse distribution center's work directly impacts the company's customers.
"I think order fill and on-time shipping plays a big role in how that affects our customers on a daily basis," explained Roysden. "If an order comes out at 4:55 [p.m.], we will do whatever it takes to get that order out that day."
As Roysden described, the warehouse distribution center is a stocked facility with products to be redistributed, often considered demand driven and set up closer to customers in order to distribute products with a shorter storage time frame. For this reason, Muncie Power Products has eight facilities across the country that work together to distribute product and fulfill orders to best serve its customers.
At the warehouse distribution center in Muncie, the greatest demand is for the CS power take-offs with the CS Cell at capacity practically every day – according to Roysden. "We are continuously improving our processes to keep up with the demand," he said.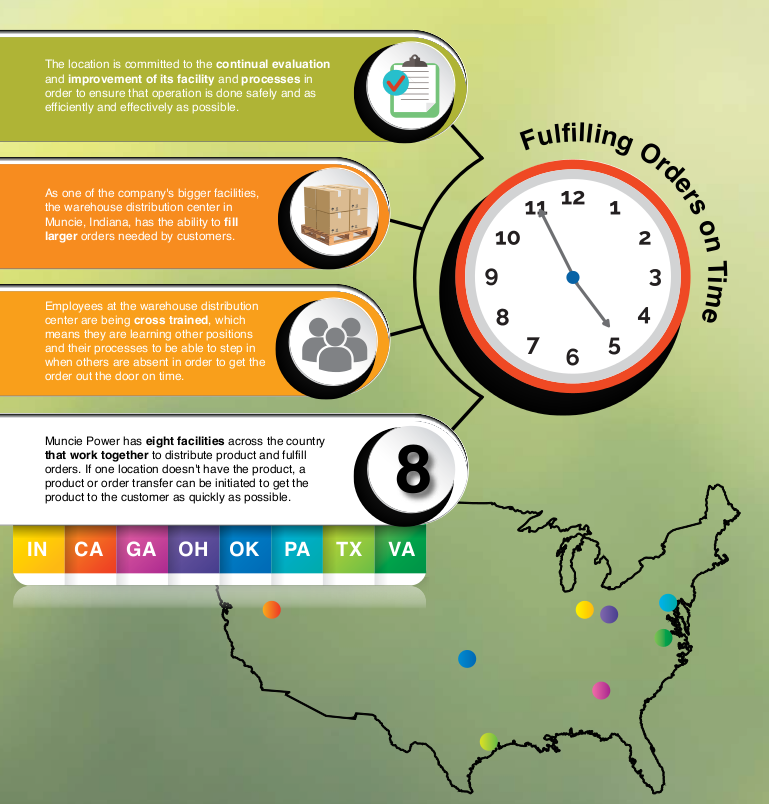 The location is also one of the company's bigger facilities, which means the ability to fill larger orders and assist other company locations through product or order transfers. While the warehouse distribution center's work benefits the company's customers through product delivery, the benefits go beyond just answering the call of supply and demand.
"One of the reasons Muncie is able to keep up with supply and demand is the way our employees are trained. Each of our production cells have specific processes that they follow in order to give our customers the best quality," Roysden said.
Currently employees at the warehouse distribution center are cross training, which means learning other positions outside of their own. According to Roysden – this training increases employee product knowledge and helps when employees are off to continue getting the product out the door on time.
Beyond cross training, the location continues to pursue other goals such as having zero accidents, achieving a certain percentage of on-time shipping and order fill, improving processes and holding continuous improvement events throughout the year. As Roysden noted, the goal for on-time shipping and order fill is 95 to 96 percent.
In 2017, the location achieved the elusive – zero accidents according to the standards set by the U.S. Department of Labor's Occupational Safety and Health Administration (OSHA). The accomplishment is a testament to the company and its employees' efforts, including a safety team that continually reviews processes for improvement.
"We have a safety team that meets once a month," he said. "Every member will have an item list in a specific area they will need to check off, ensuring it is in correct working condition or free of hazards, and we talk about how we can improve our safety standards and keep us in line with OSHA regulations."
Through its dedication to improvement, safety, on-time shipping and order fill, the warehouse distribution center remains committed to a legacy started years ago devoted to serving its customers.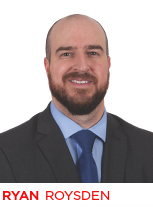 Ryan Roysden - Distribution Manager Muncie
Over the course of his 14 years with the company, Ryan Roysden has held a variety of different positions including shipping/receiving, kitting and assistant distribution manager to name a few. Ryan and his girlfriend, Hannah, of three years have a daughter, Emma, who is 15 months. Outside of work, Ryan enjoys anything and everything outdoors, playing golf and spending as much time as possible with Emma.
RELATED ARTICLES: