Larry Wesley - Director of Product Development
One of Henry Ford's more famous quotes can be seen around us each and every day in the thoughts, attitudes and decisions of the different people we encounter. Those words of:


"Whether you think you can, or think you can't, you're right." - Henry Ford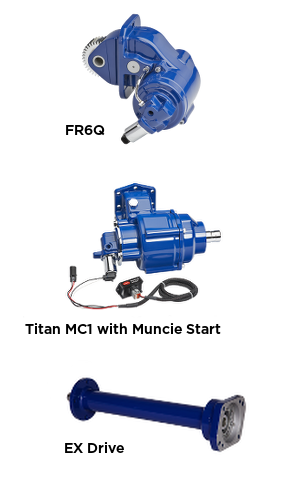 These simple words, while spoken nearly a century ago, are still applicable today. Yes, either way you are right; however, at the same time, you are sentencing yourself to one side of the fence or the other. Depending on your decision of can or can't, it results in a chain reaction – a set of actions, or lack thereof – perhaps more important or defining than the decision itself.
As we enter our 83rd year in business at Muncie Power Products, we lead with a "can" attitude that continuously guides us. We strive to provide the best services, support, processes and products that we can. We listen to you and your peers to improve ourselves so that you can be the benefactor. And it's this "can" legacy that propels our future.
2018 will be a tremendous year of new, company products that "can" including:


• FR6Q power take-offs (PTOs) featuring our patent-pending rattle abatement technology that provides you with the best choice in the industry.
• The first of the Titan Class PTOs, the Titan MC1, with industry-leading technology – containing patented and patent-pending features – that gives you an advantage and allows you to gain optimum performance from your equipment.
• Muncie Start – an electronically controlled, modulated clutch shift engagement system that allows for a smooth start of high-inertia applications and reduces harsh shock loads, or for some applications, prevents engine stall situations.
• The EX Drive extended shaft with our patent-pending "J" bracket mounting system for quicker installation when coupled with our new Titan MC1 and the rest of the Titan Class PTOs to come on transmissions with or without retarders or coolers.


Having been at Muncie Power Products for not quite half of those 83 years, it is great to know we have a corporate team philosophy from top to bottom focused on a "can" attitude that is recognized around the globe.
We thank all of the other "can" believers out there. We believe in you, and we know you "can." And to those that "can't," we'll see you from the other side of the fence. Can or can't, the decision is yours.   
Larry Wesley - Director of Product Development 
RELATED ARTICLES: