Delivering a Quality Product
Featured in Muncie Power Quarterly, Issue 4, 2017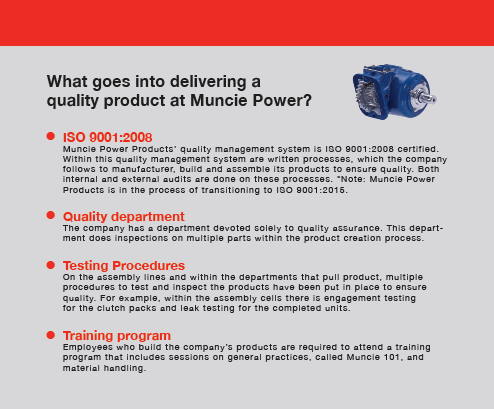 In the work truck equipment industry where one truck can cost hundreds of thousands of dollars, the quality and integrity of each component matters. From power take-offs to pumps, cylinders and valves if even one component is not up to par – it can damage the entire hydraulic system.
A provider of these very components, Muncie Power Products takes great care to ensure a quality product is delivered to its customers every time. Muncie Power's distribution at its Tulsa location encompasses receiving parts from the machine shop, assembly of power take-offs and hydraulic pumps and pulling, packing and shipping product to its divisions and customers. As Distribution Manager – Tulsa Aaron Malloy mentioned, distribution is critical to ensuring a quality product.
With a decade of industry experience working within different distribution capacities at Muncie Power, Malloy has a solid understanding of all its aspects. As distribution manager, he works closely with his team to ensure that the company has a great crew and processes in place to meet customer demands.
Q. What positions make up your team and how do each of these roles impact the end result?
A. The positions that make up my team are the assemblers, pullers and managers. The assemblers impact the end result by ensuring they're building a quality product. The pullers impact the end result by getting that product pulled and shipped to the customer as requested. The managers impact the end result by helping leads remove barriers and make sure they have everything they need to build and ship a quality product.
Q. What's the end goal or benchmark you are trying to achieve or exceed within distribution and why?
A. The goal I'm trying to achieve or exceed is to develop a work environment that our employees enjoy coming to and have zero warranty claims and 100 percent on-time delivery for the customer.
Q. How does distribution directly affect Muncie Power Products' customers?
A. Distribution plays a vital role in ensuring quality product is made to meet or exceed the customer demand and that it's also delivered to the customer as requested.
Q. What are customers looking for when it comes to distribution and what has Muncie Power Products done to meet these needs?
A. Customers are looking for quality product and fast delivery. We've developed teams and processes that ensure quality products and we deliver our product to the customer when they need it.
Ultimately, setting Muncie Power Products' distribution apart from other companies, according to Malloy, is how the company considers employees family and is concerned with the success of both its customers and its employees – which translates into taking pride in delivering a quality product to the customer.
From time-to-time, challenges to distribution like changing customer demands and meeting customer expectations will occur, but with a great team in place dedicated to continuous improvement and satisfying customer needs, as Malloy mentioned, the company is able to overcome these challenges.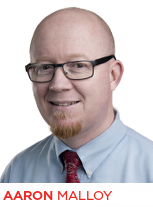 Aaron Malloy - Distribution Manager – Tulsa
Aaron Malloy has been with Muncie Power Products for 10 years. During his time with the company, Aaron has served in various capacities including shipping/receiving, assembly, distribution lead, assistant distribution manager and within his current position. He enjoys playing golf and watching his favorite sports teams, the Dallas Cowboys and University of North Carolina Tar Heels. Aaron is married to his wife, Angela, and they have two sons – Logan and Korbin.
RECENT ARTICLES: