Featured in Muncie Power Quarterly, Issue 1, 2018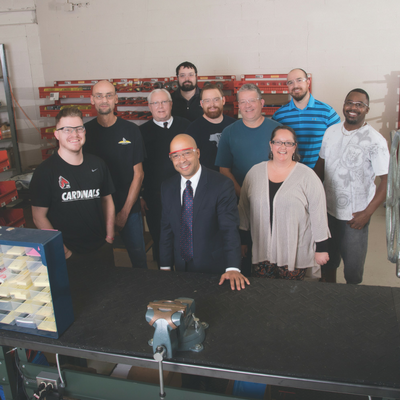 He is approachable, willing to help others, highly achieved and enthusiastic about building relationships. In fact, it's these qualities that led Damon Elmore to the people side of business and piqued the interest of Muncie Power Products.
At Muncie Power, Elmore is tasked with leading people development initiatives and helping the company prioritize people strategy in terms of promoting engagement, creating a rewarding culture and environment and enhancing professional growth through coaching, mentorship and training.
When referring to people strategy Elmore shared, "It provides me a chance to support the business while promoting initiatives that support the most important part of our business."
The most important part of a business being the company's people, as Elmore believes individuals are behind every great idea, product, solution – you name it. For this reason, Elmore routinely goes the extra mile to connect with others – whether it's making the morning rounds in Muncie or visiting the company's other locations across the country.
Since arriving last fall, Elmore has highly prioritized the building of relationships. "All of these interactions are extremely important to me. The visits allow me a chance to learn, firsthand, the unique skill set and strengths all of our employees possess and the contributions they make or challenges they face," he said.  "That's with new employees and seasoned vets, whether they are machinists, assemblers, customer service managers, part of our sales team, working in an office capacity or any other role they may have making Muncie Power Products work."
To Elmore, every interaction and relationship is an opportunity. He quipped, "You just never know how a person may be able to contribute to the organization." Emphasizing the role that individuals play in the organization, Elmore is not shy about asserting that open communication with employees is just as vital.
I'll also say that regular, genuine, open communication with employees at every level about their interests, their ideas on their contributions – or ability to contribute – and thoughts on ways to improve processes or other ideas are worth their weight in gold," he said.
An avid reader, Elmore draws inspiration from David Marquet, author of Turn the Ship Around! In an article he contributed to Forbes, Marquet describes the role of a leader in the following way: "Leaders see the potential in others and create environments where others can be at their best. Leaders seek to remove barriers to work and are curious about the work lives of the people who make the company run and without whom, they would not have a job. Leaders care about others."
"For me, that is the ultimate measure of success," said Elmore, who recognizes it is not that simple. It will require understanding the needs of the business and supporting the management and HR teams with input and advice – all at the same time. "Then after that, we turn our focus onto making it even better," he noted.
Elmore encourages professionals engaged in people strategy to be proactive, creative and confident when it comes to retaining and developing top talent as these characteristics will allow one to develop creative approaches. As an attorney, Elmore believes that the best approach is to constantly pay attention to potential challenges, reevaluate opportunities and be aware of the changing landscape because a company is in peril if it fails to do so.
Working within HR and business strategy now for the last 12 plus years, Elmore reflects back on his first role in people strategy when one of his mentors – Bruce Clayton – appointed him to lead diversity, employee and labor relations at Genuine Parts Company in Atlanta. "Bruce felt my skills supported that, but more important than all that, the fact that I like and appreciate the contributions of all people would help me in that area," said Elmore, referring to people strategy. "Turns out he was right."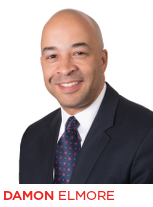 Damon Elmore - Sr. Executive Director of People Strategy and General Counsel
Hailing from a legacy of educators, the eighth member of his family to graduate from Savannah State University, Damon Elmore's youthful aspirations did not include becoming an attorney. While pursuing an undergraduate degree in political science, it was then that he started to develop an interest in criminal and corporate law. Graduating magna cum laude in 1993, Damon immediately enrolled in Emory University School of Law's Juris Doctor program in Atlanta, Georgia.
Upon graduation from law school, he began what has been a 22-year career as an attorney – first working with the City of Atlanta Law Department as an assistant city attorney. After three years with the city, he joined Gorby, Reeves, Peters & Burns P.C. as an associate. He later joined Genuine Parts Company where he spent 10 years working in various capacities: in-house counsel, director of diversity and employment practices and vice president of human resources. Prior to joining Muncie Power Products, Damon was a partner with Nowell Sparks, LLC in Atlanta.
In his spare time, he enjoys cycling and spending time with his two daughters, Simone and Ava.
RELATED ARTICLES: