Social Media Tips – Take Charge of the Company Narrative
Whitney VanKlaveren - Marketing Communications Coordinator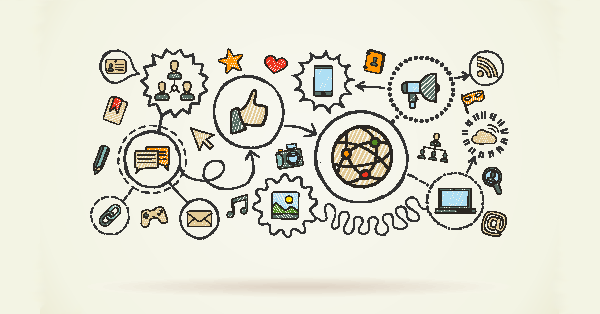 In today's digital age one thing is certain – social media cannot be ignored.
Thanks to social media, or really the Internet in general, people across the globe are more connected now than ever before – sharing information about themselves, their experiences, products and brands on a regular basis. For this reason, it's important for a company to establish a presence and take charge of its message.
The last thing the company wants is someone other than the company creating its narrative – which could be good or bad depending on others experiences – as social media offers an easily accessible channel to share one's thoughts and opinions. From attracting new customers and new hires, to creating awareness and conversation, to generating new leads, social media has become a useful tool for a company to leverage its brand.
If your company is new to the social media game, hang in there, it takes time. The good news is that there are numerous articles and resources available to help get started using social media like this very article, providing some tips and food for thought.
And so, without further ado, let's dive in!
There's no one formula
Remember, social media isn't a one size fits all. With factors like differing company goals, products, resources, industries and more – all playing a role in how companies use social media and the different platforms each use – companies have to be willing to do the leg work in order to find out what works best for the organization. Do the necessary homework regarding the different platforms, paid versus organic posting, etc., but also don't be afraid of calculated trial and error. A company may find that something that didn't work for one company may work for its and vice versa.



Define the organization's purpose for using social media
To help determine the platforms the company will use and how it will use social media, first define the company's purpose for using social media and what it hopes to accomplish by using these platforms. Defining the company's purpose and what it hopes to accomplish provides guidance – not only as to which platforms may make sense or the type of content the company will share but also a means by which to measure success – which we'll touch more on later.



Find the platforms that work for the organization
It's important to evaluate each social media platform and determine those that make sense for the company. Find those that the company's target audience uses and evaluate if it makes sense. For instance, realize that if taking and sharing photos on a regular basis doesn't make sense for the organization then a platform focused on this kind of content may not be the right fit. It's better to pick the platforms that make sense, even if it's only a couple, and use those platforms effectively then to try to use them all and do so poorly. Social media takes time and attention. Once an organization decides to start using social media, keep going.


Boosted posts and social media ads can be effective without breaking the bank
Boosted, sponsored or paid posts on social media, while at a cost, increase a post's traffic and help get a post out there in front of the company's target audience (if appropriately selected). Keep in mind that those like Facebook don't even show each of the company's organic posts to all of its followers, which is why the ability to boost posts can be an essential tool. Boosted posts help ensure the company's target audience doesn't miss out on important news the company is trying to communicate.
Like with boosted posts, there is a cost associated with social media ads – but with either boosted posts or social media ads, the company gets to decide how much it wants to spend beyond meeting the minimum set amount if one is required. As far as ads, not only can a social media ad be potentially more cost effective compared to a print ad, but it's also easier to track and obtain measurable data.
With social media ads, the company can tailor the audience so that the post is getting in front of the right people. Targeting is easier on some social media platforms than others and can take some time to figure out, so don't get discouraged.
*We have used paid posting and/or social media ads on Facebook, LinkedIn and Twitter, but there are others to consider.
Don't post just to post
If the post isn't relevant and it doesn't provide value – why will the company's audience care? Worse yet, what if it leads someone to unfollow the company as a result? Content should be interesting, engaging, relevant and most importantly – valuable. As the old saying goes, "Content is king." Before posting, ask – does this post provide value to the company's audience? Does it align with what the company set out to achieve using social media?


Consider the content to post
Social media users are exposed to myriad posts on a daily basis. So it stands to reason that unless a post stands out, it'll most likely get scrolled right over. This means that eye-catching visuals, attention-grabbing descriptions like questions and links with interesting titles are beneficial when it comes to getting users to at least give pause. Depending on the graphic, or if a link is incorporated, a description may not even be needed.
Sharing links or including a link within a post's description to a full article, landing page or other piece of content on the company's website is also a great way to make the post stronger by providing a direct path to added value and content. Plus, this helps drive traffic to the company's website where it now has the opportunity to win the viewer over with its stellar content and convince them to check out other areas of interest.
Above all – make sure these elements add value and are in alignment. Don't use images, descriptions and titles that are simply click bait and vaguely related or have no connection. This can lead to negative perceptions of the brand and its content.
Determine appropriate metrics
Now, we're finally ready to pick up where we left off on how defining the company's purpose and what it hopes to accomplish provides a means by which to measure success. Once the company knows what it's trying to achieve – awareness, action, leads, etc. – it can more easily zero in on the appropriate metrics to evaluate.
For example, a company that is looking to generate awareness may look at impressions to determine how many people potentially saw the post. While the number of impressions can look impressive, keep in mind that an impression can include someone scrolling over the post. As a result, reviewing the CTR or click-through rate may tell the company more in regards to how many people actually clicked on the post's link and took the time to potentially read the company's content.
If a company is looking to generate leads for instance, it could look at how many people filled out a form on the social media platform or company's website – coming from the post – to receive a relevant/valuable piece of content.
Set benchmarks for success
In the beginning, the company can set benchmarks based on what is traditionally considered a successful return on investment (ROI). As mentioned earlier, keep in mind that the type of industry, among other factors, can impact what may be considered a successful ROI.
It takes time to gather data to set accurate benchmarks in order to determine if a post or ad performs poorly, average or at superstar status. Without setting benchmarks for metrics however, the company will have no standard by which to measure its success.
Continually review and evaluate
Reviewing and evaluating the company's efforts is just as important, if not more important, than its social media efforts. Evaluating metrics and reviewing efforts help the company to determine what worked and what didn't in order to improve moving forward. If the company isn't evaluating its metrics and efforts in order to produce the best content to reach its audience, then what's the point?



Start with defining the organization's purpose and take it step-by-step. Social media is a marathon, not a sprint. And above all else, remember, it's the company's narrative. Don't let someone else create it.
Whitney VanKlaveren - Marketing Communications Coordinator
RECENT ARTICLES: