Customer Service: A priority since day one
Kyle Beaty – Customer Service Director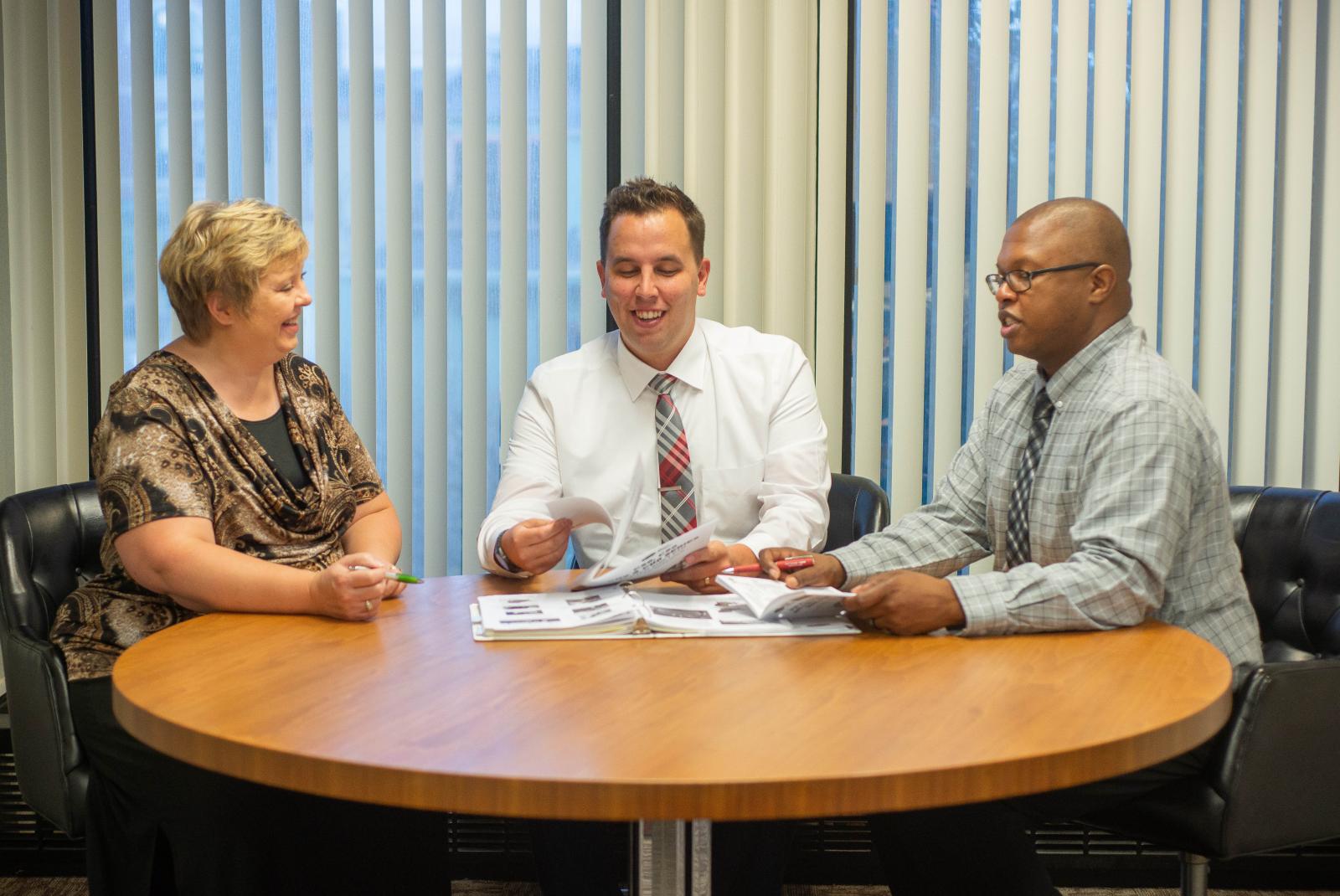 Customer Service Director Kyle Beaty, center, meets with members of the customer service team Lori Brummett, left, and Lamont Howard, right, at corporate headquarters in Muncie, Indiana. The team will not only meet to discuss customer trends, but they also meet to do product training and talk about ways to better serve customers.
Muncie Power Products' structure as an organization is heavily focused on customer service. We offer an experience for our customers that is unlike anything else in our industry. We've built our reputation around providing excellent customer service. When we talk about what makes Muncie Power an industry leader, our customer service is consistently at the top.
Our customer service
Located at our corporate headquarters in Muncie, Indiana, we have a team with more than 240 years of combined experience in the work truck industry. The customer service team is made up of team members with a variety of experiences, including power take-off (PTO) assembly, shipping, and warranty. Our team ranges from 40 years of experience with Muncie Power to less than 2 years. On average, we service over 500 calls per day, all while keeping an average hold time of 2 minutes. In addition to the call services, we offer an online contact form to get in touch with customer service via our website.
The customer service team is typically comprised of 16–18 team members, including a couple from the product team. This team primarily handles PTOs, hydraulics, and our hose and fittings product line. We also have a dedicated product development team available for more detailed technical assistance, and a team focused on our snow and ice product line. From an international standpoint, we have a team that works directly with our international accounts on a daily basis, which includes a dedicated international customer service manager that is fluent in Spanish.
Our team is continually growing and changing, but our focus remains the same—to provide industry-leading customer service.
Training
We offer an extensive training program that equips each customer service manager with the proper tools and knowledge to offer the best experience for our customers. This extensive training has provided the opportunity for numerous customer service managers to be promoted to other positions within the company and bring in a new influx of talent.
We also take the time to interact with every facet of the company. We are always engaged with a wide variety of departments within the company on a daily basis. Because we are in constant communication with our warehouse facilities, and multitude of other teams, we are able to provide our customers with up-to-date and accurate information.
Our customer service team is trained to also provide support for customers utilizing our innovative online tools, including M-Power, training, and order status.
Past and future
How did we get to where we are and where are we going as we look toward the future?
According to Gordon Mcllwain, director of learning and development, customer service has been our priority since day one; although there was no official department at the start, the concept remains in place today. Customer service was largely driven by our outside sales team until our official customer service department was created in the early 1980s.
This allowed even greater customer support as this new team worked alongside our outside sales force. That team functioned very similarly as we do today and we continue to grow upon the established philosophy of making sure the customer comes first.
As we look toward the future, we are continuing to develop new processes and technologies to better serve our customer base. One of our key initiatives is to enhance how we provide real-time information to our customers through continuously improved communication systems.
When utilizing our customer service team, our customers will always receive the support they have come to expect when working with Muncie Power. We continue to look for new and innovative ways to better assist our new and existing customers. We are excited for what we can bring to our customers for years to come.
Get in touch
Call: 765-284-7721 or 800-367-7867
Contact us: https://www.munciepower.com/company/contact
Who we are: https://www.munciepower.com/company/leadership
RELATED ARTICLES: