Featured in Muncie Power Quarterly, Issue 2, 2015
Michelle McKnight is finding her "happily ever after" story in hydraulics.
"Little girls don't typically sit around and dream about being mechanical and hydraulic engineers. It's not where society points them," McKnight said. "But I think it is great. I would like to see more women go into the field."
As Pump Cell Crew Leader in Tulsa, McKnight has taken a hands-on approach to learning the industry.
"In order to perform my job to the best of my ability, I've also developed my skills as a machinist," she said. "Some may say it's uncommon for women to work in these positions; however, times and careers are changing, including women working within a machine shop environment."
"It's taken me a long time to get to where I am and I've been fortunate to have the full support of management to excel within the company," McKnight explained. "Without words of encouragement from Brian Maher, the assistant plant manager, I never would have made it as far."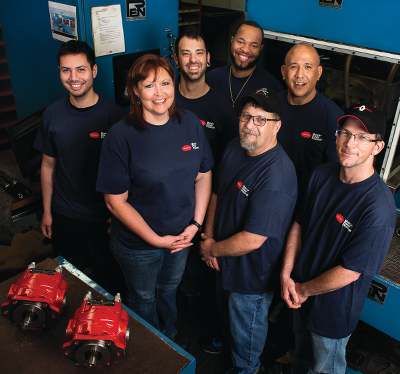 One of her primary job responsibilities is to work with Muncie customers to meet specialized pump requirements. This means that in order to meet these requests for pumps with specialized requirements, Michelle, the engineering department and her team must look at the bigger picture and collaborate together to turn a mere idea into a functioning pump.
"We have certain customers who need specific options on their pumps, whether it's the hole size or an odd configuration. What I do is take a blank housing and I make what they need," she said.
For the custom porting jobs, McKnight works with engineers, programmers and assemblers to create and test unique made-to-order pumps.
"We work about 55 hours a week, and we build approximately 40 to 50 a day," she said.
McKnight enjoys the work.
"I like the machining, building and troubleshooting. I love the hands-on part of my job," she said.
The projects have had McKnight and her team customizing pieces for people across the globe.
"Muncie ships worldwide. Wherever that customer is, we build it and ship it. It could go anywhere in the world," she said.
McKnight has found that her division is popular with customers, especially those who visit the plant.
"When we have tours, a lot of the time, people are interested in the pumps because of curiosity relating to our processes and how it all comes together. It's what we have that is unique. It's a selling point," she said.
Working at Muncie Power Products has been an empowering experience for McKnight. "If you want to grow with this company, the opportunities present themselves. But you can't wait for it to happen. You have to seize the moment. There are always opportunities," she said.
McKnight recently enrolled at Tulsa Community College to pursue a mechanical engineering degree.
"There are those people who when they are young know exactly what they want to do. This job has put me in the right direction. I want to go into hydraulics. It has helped me figure out exactly what I want to do," she said.

Michelle McKnight - Pump Cell Crew Leader
Michelle McKnight is Pump Cell Crew Leader at the Muncie Power Products Tulsa site. Michelle began working for the company in 2007 as an assembler and has been in her current position since 2011. She has two dogs, which she considers to be her children, and enjoys cooking, traveling in her spare time and spending time with family and friends. Throughout the year, Michelle also serves as a volunteer at the Community Food Bank of Eastern Oklahoma.
RELATED ARTICLES: