History in the Industry: Muncie Power's Kurt Polsley recounts 51 years at the company
Kurt Polsley – International Sales Director
Kurt Polsley, international sales director for Muncie Power Products, is set to retire at the end of 2022; reaching 51 years at the company—the second longest tenure of any employee. We asked Kurt to share a bit about what it was like when he started and what has changed since he started. He has written a first-person recount of his first several years with Muncie Power, travel stories, and more.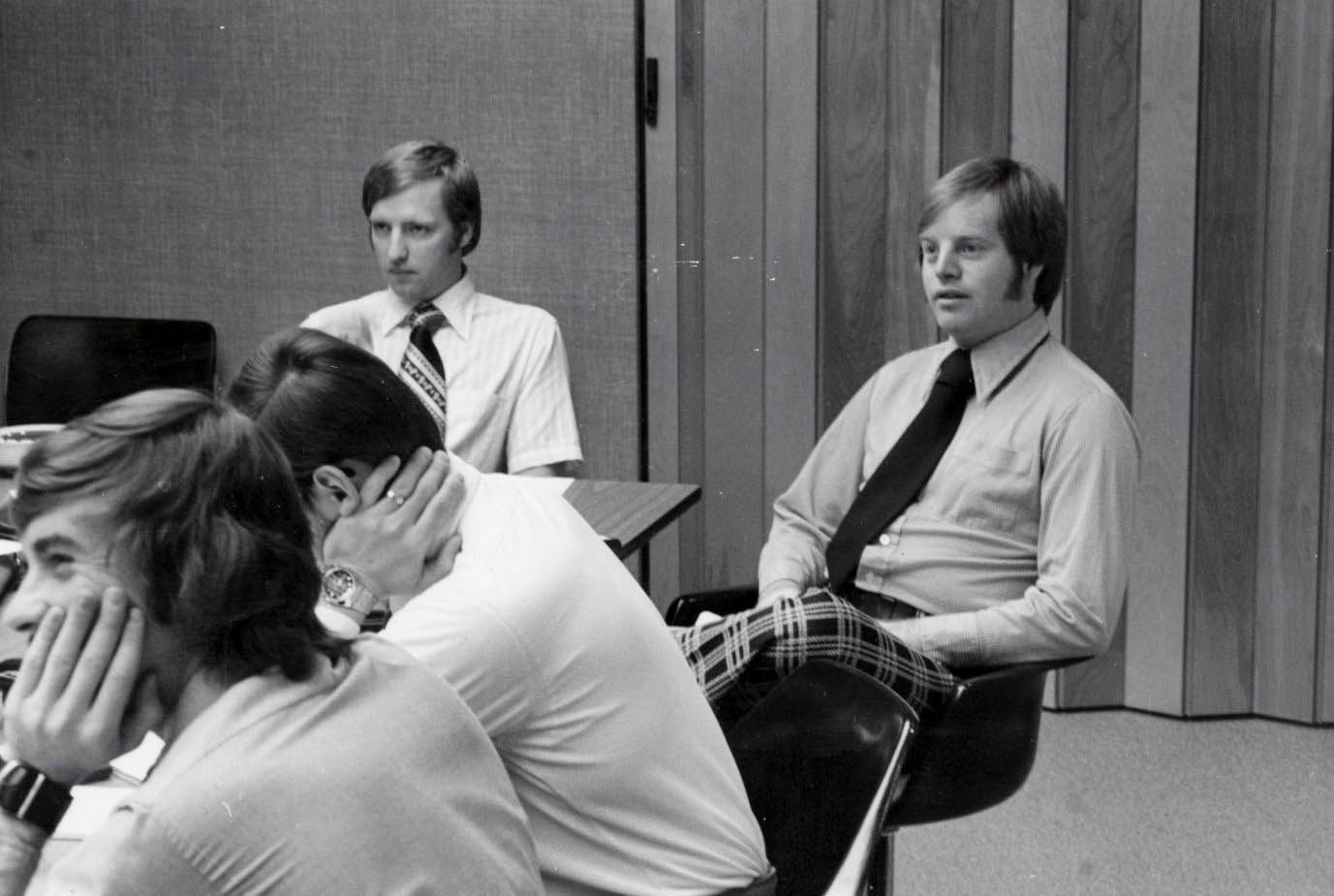 Kurt Polsley, pictured right of center, at a sales meeting in 1975.
Starting out
Monday, July 12, 1971, was my first day at Muncie Parts Manufacturing Company (before the name changed to Muncie Power Products in 1979). I can still remember during orientation signing papers that had my projected retirement date in 2013. How could a date which seemed to be an impossible distance in the far distant future now be several years in the past?
After all the paperwork was signed and introductions were over, I was given my first job—sweeping the floor. When I inquired about when I might be able to do something other than sweeping the floor, I was told that would happen when I learned how to sweep correctly so that I could teach the next person.
Pretty much everyone started in the shop back in those days, in fact, Ken Briner (who would later become a senior vice president), began in the shop just two weeks before me. A typical day of working orders would include lots of assembling of u-joints, along with pulling many single gear PTOs, and both of those have completely or mostly disappeared from our product line today. Probably half of all our orders were shipped by bus to our customers, either Greyhound or Trailways, and I would often take the orders to the bus station.
Much like our world today, inflation was a big problem back in 1971, big enough that President Nixon had just instituted a 1-year wage freeze; that meant I would work a full year at my hire-in wage before getting my 30-day wage increase. Fortunately, I was able to work some overtime; which was great because we already had our two oldest daughters and my wife, Lynn, was a stay at home mom.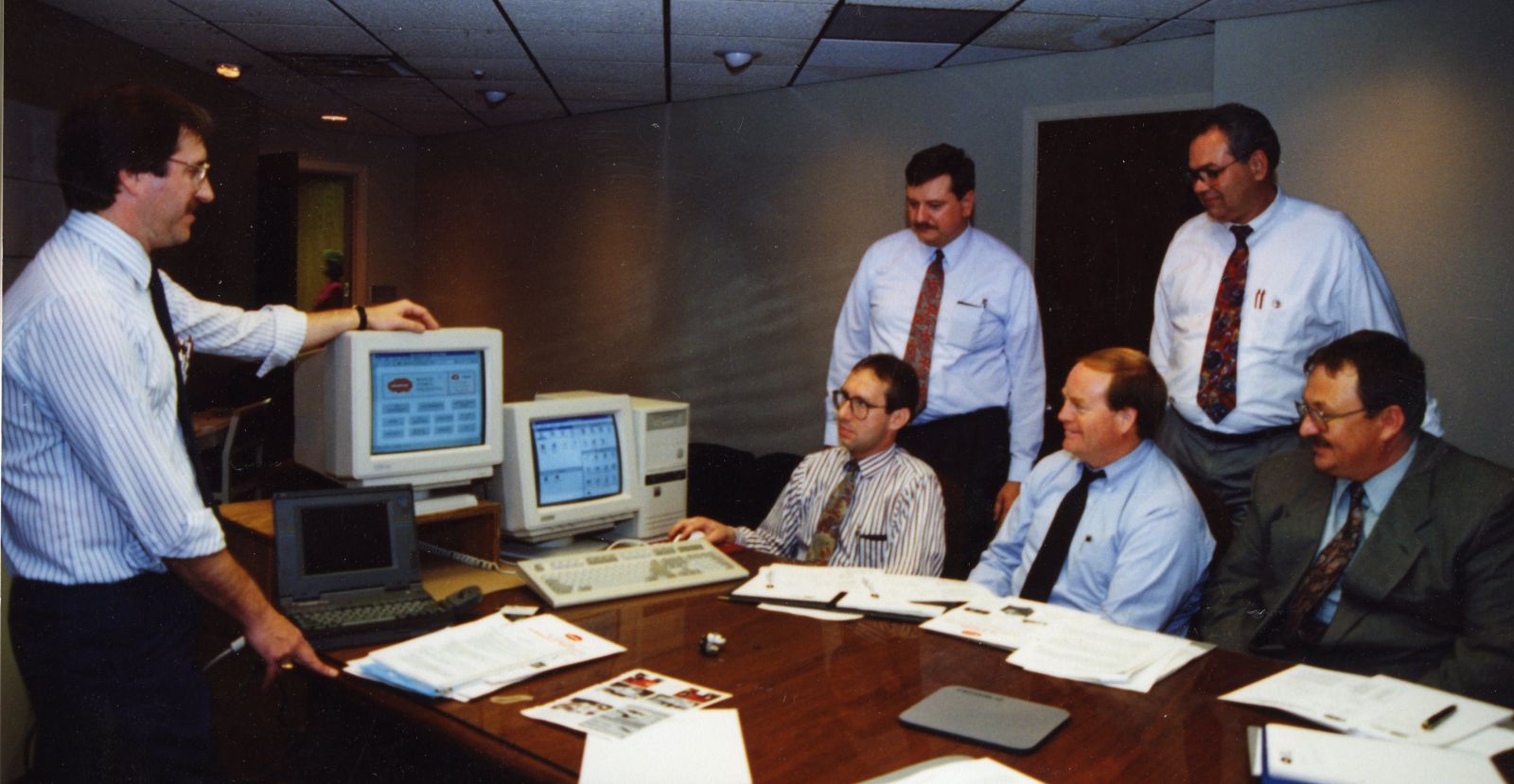 Kurt Polsley, seated in the center, learning about new technologies at the national sales meeting in 1994.
Lessons learned on the job
I proved to have a knack for remembering part numbers and was soon put in charge of pulling our division transfers for Atlanta and Chicago. We were a Chelsea PTO distributor and PTO parts were pretty complex because of all the different PTO models and parts that looked very similar, but were, in fact, quite different. I learned early on that I not only had to know part numbers, but I also had to recognize the parts themselves.
My first opportunity for advancement came when I was asked to move to Chicago and become the shop supervisor at our warehouse there. In those days, Joe Wilson was the division manager (and later become vice president of TEDs in 1974, and then became CEO), Paul Modzelewski was the assistant manager (and was later promoted to logistics manager and transferred to our corporate headquarters in 1976), and Larry Troxel was on the phones as a customer service manager with Bob Collins for outside sales and engineering.
So, in January of 1973, Lynn and I sold our mobile home and loaded our two young daughters in the car and moved to Chicago. I still remember the first order I checked in Chicago. It was a hydraulic pump that required a rotation change and was still in the workbench vise. I'd noticed an O'Ring on the floor in a puddle of oil and asked if that O'Ring came from the pump. I was assured that it did not. The next day our customer called and his pump was leaking because it was missing an O'Ring. Lesson learned.
Joe, Paul, and Larry would train me on the phones during the lunch hour where I learned our customers, applications, and such. In those days, many of our customer had "Truck Equipment" as part of their name—as in Truck Equipment of Des Moines, or Truck Equipment of Milwaukee. I learned in a hurry that you had to figure out specifically who you were talking to if you didn't want to ship products to the wrong one. One of our largest customers was Jacob's in Denver, as our Chicago division took care of the Western US customers.
I had the opportunity to become the division manager in Chicago in 1976. I began to travel extensively, but following Joe in the field was a big challenge—customers really liked Joe! However, over the years I established my own following. We trained many other future Muncie leaders in Chicago as they would be cycled through Chicago to learn about the company, our procedures, etc., often then becoming division managers or assistant managers in other locations.
Earlier during my years in Chicago, one of the defining times of my life was when eight of us from around the company were selected to become product and application specialists and underwent eight weeks of training.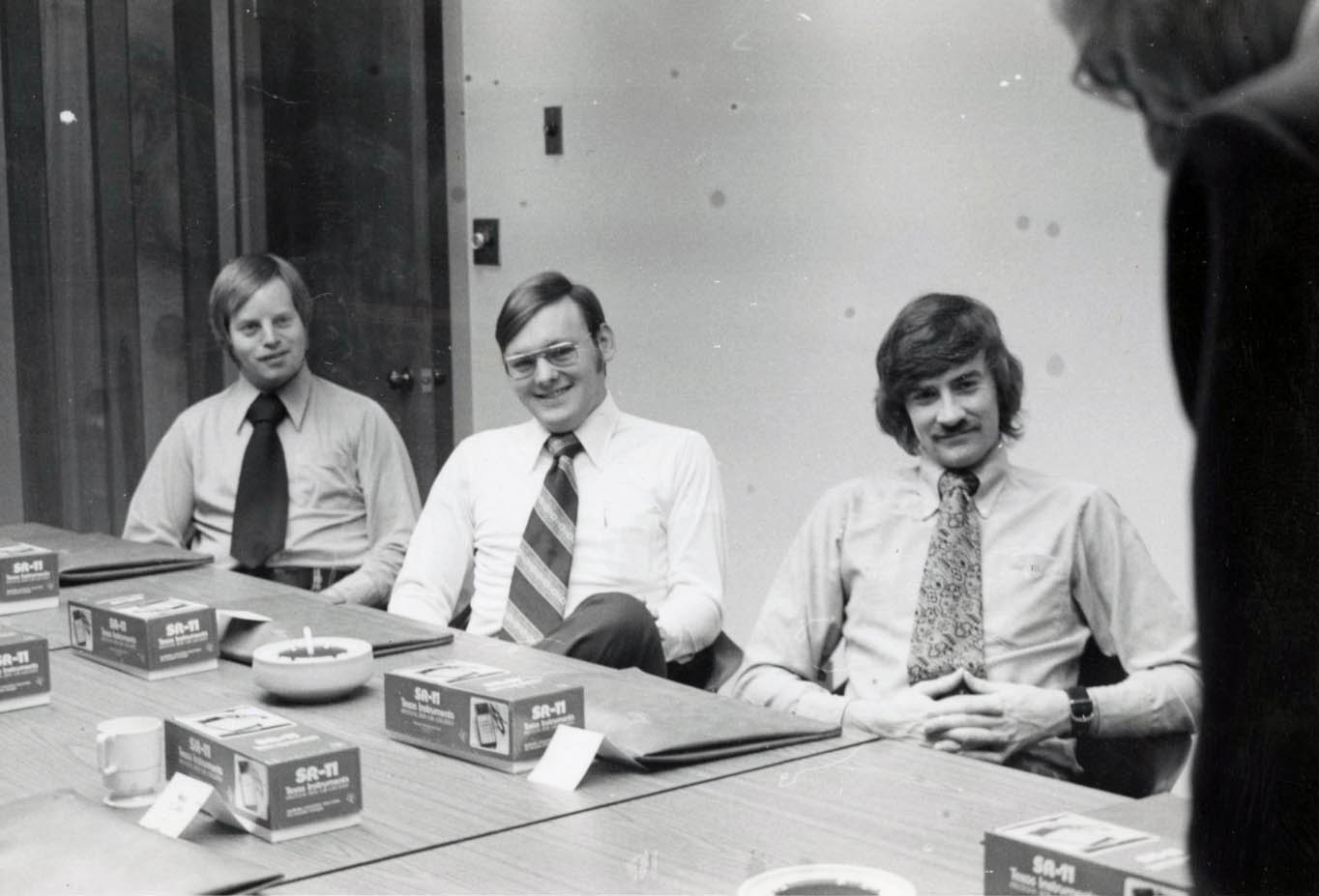 Kurt Polsley, far left, sitting in a sales meeting with other employees in 1975.
Moving again
During those years in Chicago our two youngest daughters were born and we became a family of six. In 1982, Lynn and I were asked to consider moving to California where Muncie Power had recently established a distribution point with the H.V. Curll Company in Huntington Beach.
Mike (then vice president of sales) and Jackie (then accounting manager) Findley, helped set up our partnership with HV Curell in 1981. They moved back to Muncie, Indiana, after being there for a short amount of time making sales calls and doing preliminary work, but Muncie Power wanted a longer term commitment and we were asked to sign a 5-year agreement. Once again, we loaded our family in the car and moved for Muncie Power.
The Western U.S. and beyond
1982 was also a year with significant financial challenges as our industry had taken quite a decline. I remember Joe telling me that my travel budget for the month was only $300! To save on travel expenses as well as increase my time with the family, I would pull our Jayco pop-up camper to state parks where the family would camp for the week while I made sales calls during the day to accounts in the surrounding area.
The success of our California location wasn't just based on sales calls, but also on the great work inside on the phones and getting the orders out correctly and on time. Scott McDonald was our inside person on the phones, and he was a critical factor in our success.
In 1985, I was asked to be the Western district sales manager for everything west of the Mississippi River, including the four western provinces of Canada. My first trip to Mexico actually came in 1981, when I was still in Chicago, as one of our large OEM customers had an open house at their new facility. Gradually, I began traveling more often to Mexico, and by 2001 was travelling extensively in Latin America. In 2010, I became the international sales director and was responsible for getting the Muncie Power brand into the world market.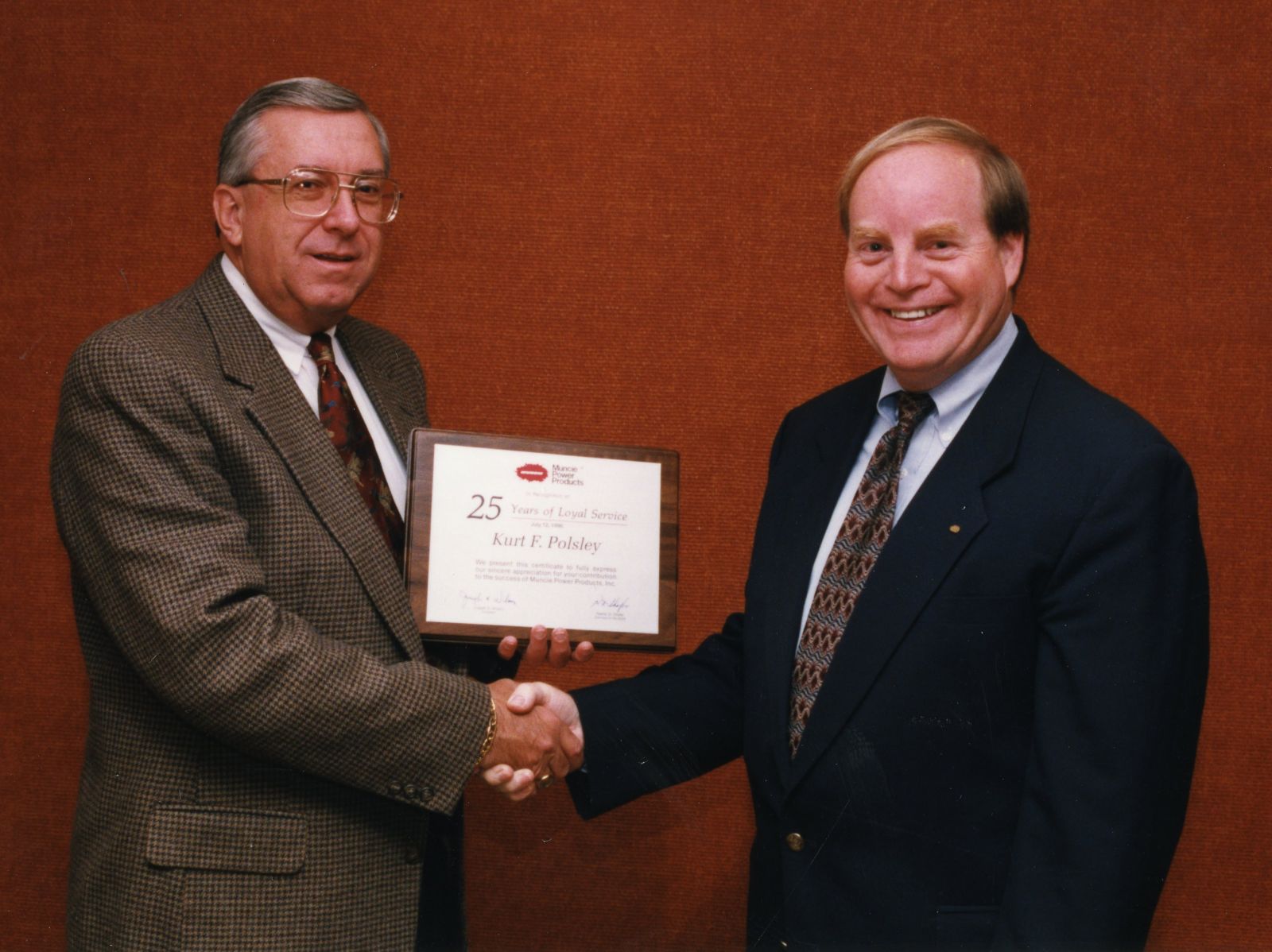 Kurt Polsley, right, receiving his 25th anniversary plaque of being an employee with Muncie Power in 1996.
On the road or in the air
I've had the privilege of travelling in all 50 states and more than 50 foreign countries. I have over 7.7 million air miles with American Airlines, and have travelled by plane, boat, train, busses, and taxis. My favorite place to travel is probably Singapore—a small island nation that is very clean, very safe, and has lots of great unique food.
Not everywhere has been safe: my 25-year Muncie Power anniversary watch was stolen in Venezuela. Traveling internationally has meant many unique foods that I wouldn't necessarily want to repeat; like beetles, ant larvae, chicken feet, horse, dog, and goat. I learned early on just to eat what my hosts were offering without asking too many questions.
There have been many changes since my early days of sales travel. I still have a huge collection of state maps from the days before we all had a GPS easily accessible that my kids will someday throw away. Getting lost was something that was just an everyday part of the sales experience back then.
There were no cell phones, and every day we would find a pay phone and call back to the office in both the morning and afternoon to check and see if there were any messages for us. I can still remember the telex machines and the first fax machines when we started to use them.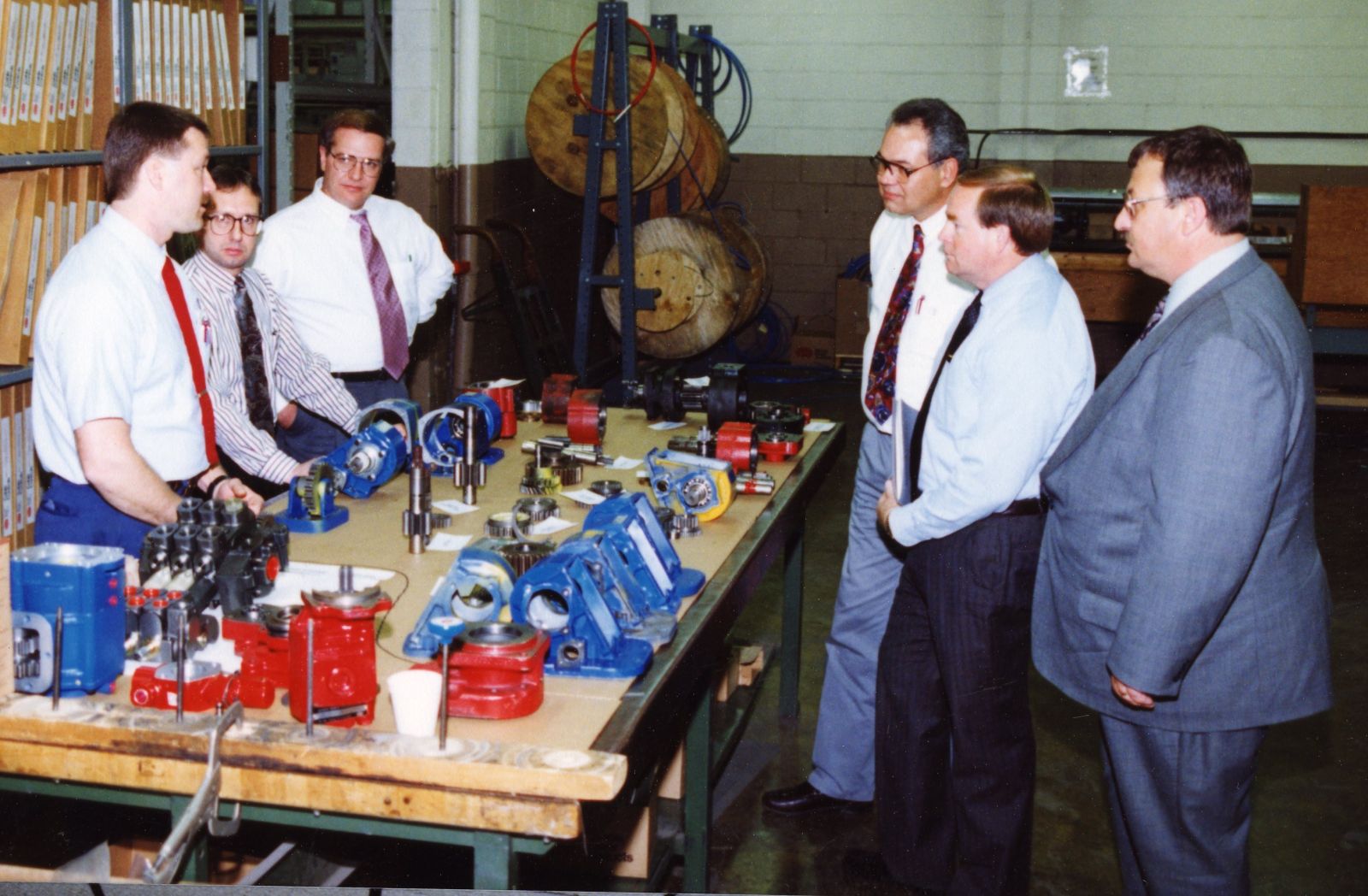 Kurt Polsley, pictured in the middle on the left, in a product training session during the national sales meeting in 1994.
Industry changes
Significant changes in the work truck industry would include the consolidations that have taken place. Many small, formerly family owned businesses are no more as they have been bought up and blended into very large roll-up groups. It used to be, every city of any size had several TEDs or upfitters, who distributed various lines of dump bodies, wrecker bodies, refuse, and utility bodies.
Now, many of those have disappeared, being replaced by nationwide truck pools, or the truck equipment OEMs themselves who now mount much of their own equipment. Also, there used to be several U.S. manufacturers of the trucks themselves, and now we don't see that as often.
Remembering Hamer Shafer
Hamer Shafer was the first employee at Muncie Power, then known as Muncie Parts Manufacturing Company, in 1935. Eventually, Hamer later became president of the company in 1965, and transformed it into the company it is now with a focus on the truck and mobile equipment industry.
The first story I'd like to share was from a former customer, Botts Welding in Illinois. One day, on a sales call, the owner mentioned to me that we had the smartest janitor he'd ever known. Confused, I asked him to explain a little further what he meant. He said that sometimes when he was in a pinch and working late, he would call the Muncie Power number and a guy would be there after hours. When he asked who he was talking to, the guy simply said, "The janitor." Well, he went on to say that no matter the question he had, that janitor always knew the answer. That janitor was Hamer.
Another time, when they were taking my picture for the move up to Chicago, Hamer asked where my suit jacket was, and when I replied that I didn't have one, he took off his jacket and gave it to me for the picture.
In the early days, along with others who were previously mentioned, there was Max Jordan, then general manager; Cecil Smith, then vice president of OEM sales; Bob Smith, a zone sales manager; Dave Reece, then Atlanta branch manager and later training manager at corporate headquarters; Jane Hudson, an accounts payable clerk; Jackie King an accounting manager; Mary Duffey, an accounts receivable clerk; and so many others who made Muncie all that we are today.
In all my years with Muncie Power, one truth that has not changed: it is people who have made, make, and will continue to make the difference. We are Muncie Power.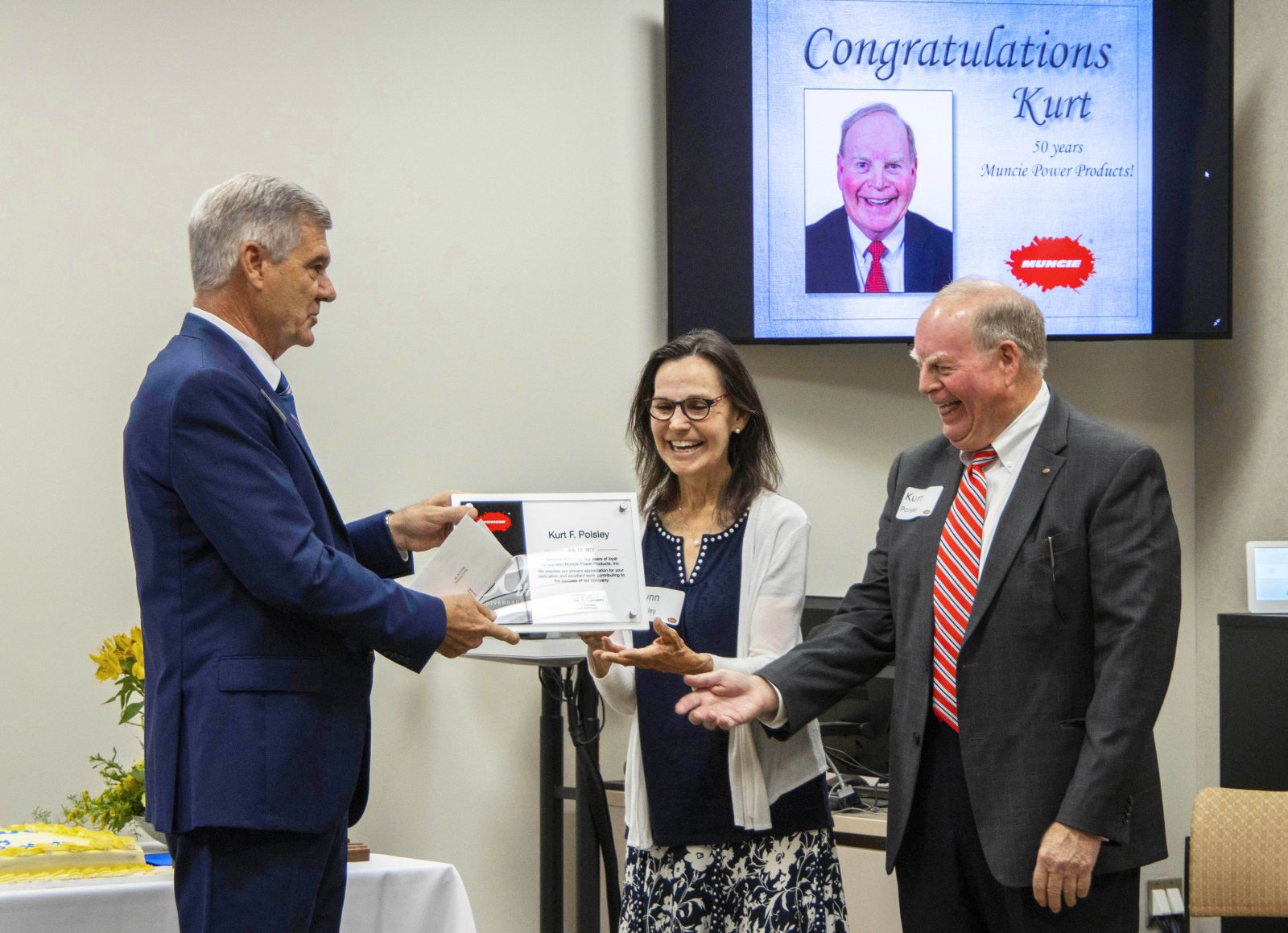 Kurt Polsley and his wife, Lynn, both on the right, received Kurt's 50th anniversary plaque with Muncie from Chairman, President & CEO Ray Chambers in 2021. A recongition part was held for Kurt to honor this milestone. He is only the second employee to reach five decades of service in the company's history.
RELATED ARTICLES: