Is Your Sales Team Organized for 2015?
Featured in Muncie Power Quarterly, Issue 4, 2014
In a year where our industry has continued to stretch it legs towards an ever quicker pace we can take away several key lessons as we plan for an even better 2015. The most important of those lessons is that we all continue to do more work while requiring fewer resources and at a greater speed. Success in an environment where efficiency and added value have become paramount is waiting for those who adapt their strategies to focus on one often overlooked element, time.
Today's most successful companies have found a balance between maintaining their traditional values while developing agile business systems capable of reacting quickly to customer demands. Personal success in this environment is very similar to that of our companies. In today's market we have to plan strategically and act decisively to win.
As we enter the fourth quarter now is the time to establish your sales plan for 2015. A good plan will be time bound and opportunity focused. Individual plans will be different but should follow a consistent format that your company has identified as a key indicator for success. A consistent sales planning process helps other departments in the company understand opportunities in the market and allows them to be ready for upcoming changes in the business environment.
We begin our yearly planning process by asking the sales team to look at their business opportunities in three key buckets:
1) Business to Develop - New customers or new sales with existing customers
2) Business at Risk - Existing business under competitive pressure
3) Business to Nurture - Existing sales at existing accounts that requires maintenance to grow
We start by identifying the accounts that fall in to the three buckets. Next, the accounts are ranked by opportunity and risk so that business meeting requirements can be established. Finally, calendars are planned from a very high level for the year. Once we have an idea of the overall schedule requirements the team drills down by quarter, month and week.
Undoubtedly, your sales plan will change as opportunities arise and targets are either acquired or temporarily put on hold. One of the most important aspects of the plan is maintaining a respect for your time and the time of those you wish to call upon. Poorly planned sales calls are a drain on company resources and are detrimental to the brand equity you have built with your prospect or customer. Remember, everyone is busy and everyone is expected to add value to their organization. Sales professionals are successful because they find a way to deliver value within each interaction.
The calendar planning process is only one element of a robust business growth strategy. We ask each of our salespeople to develop an individual business plan that encompasses a wide range of market intelligence factors, personal development goals and metrics to ensure that we are all working toward a common outcome.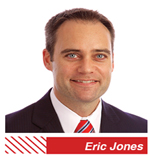 Eric Jones - Director of Marketing, OEM Sales and Snow & Ice Division
Eric has been at Muncie Power Products for nine years. He's been in charge of marketing since 2010 and has recently assumed leadership of the company's OEM focused sales team. Previously, he worked four years in the field as a Zone Sales Manager for Muncie Power Products. He holds a bachelor's of Science degree and an MBA, both from Ball State University.
RELATED ARTICLES: