Key Ingredients to Our Success
Featured in Muncie Power Quarterly, Issue 2, 2015
Almost every year since 2009, Muncie Power Products has gathered its leadership and sales teams from its multiple locations across the country for a town hall style meeting in Muncie, Indiana. This year, 76 people from plants in eight different states attended the three-day event. While some may consider the meeting slightly time consuming and costly, Muncie Power has discovered it's a key ingredient to its company's success.
Q. Why put so much time and money into a company meeting?
A. The connections we make at this meeting are invaluable; they're priceless. Every single person who comes to Muncie Power's All Managers Meeting has the opportunity to meet colleagues in each of the disciplines that make our company tick. They hear first-hand what we are doing in each discipline to better appreciate what each team brings to the table, while also learning what's going right and what we are working to improve. For some it is about reconnection, while for others it is about making those initial connections. These connections are what "bakes in" or engrains the Muncie Power culture into our employees, strengthening the foundation of our success.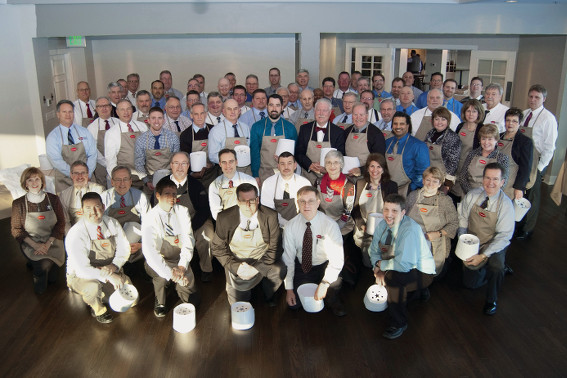 Q. How do you get people ready for such an intense setting?
A. To prep our supervisors and managers for our structured sessions over the next two days, we went to cooking school on opening night. Attendees were divided into teams that worked on different parts of our meal for that evening. For instance, one team cut vegetables for the entrée while another prepared cherries jubilee. With this exercise we hoped to set the tone that every person is key to maximizing the value to our customers and meeting our future goals, much like every team member was crucial to making the meal complete. It was a fun experience for our supervisors and managers, while also sending the message that we're "cooking up something special" at Muncie Power – the theme of this year's meeting.
Q. You are personally engaged with all of the supervisors and managers at some point during the meeting. How do you handle the hard questions?
A. There are no hard questions, only opportunities to confront tough topics. These are generally subjects that need to be addressed anyway. They're topics that everyone is thinking, but only some are willing to question. I welcome the opportunity to show that we understand the need for continuous improvement and discuss how we are investing in those capabilities.
Q. How do you know you're getting a return on your investment?
A. You cannot calculate it, but you know it is there. Last year, of the 350 employees at Muncie Power, 90 were promoted. That is 25 percent of the workforce elevated to a higher position within the company and that did not happen by accident. At Muncie Power we believe in investing in our employees, offering an array of training and educational programs to assist employees in successful careers. As a result, as our company grows we can promote from within a pool of employees who have already proven that they meet our high personal standards.
Q. How do you keep the communication lines open the rest of the year?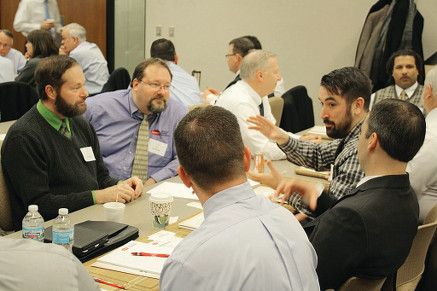 A. Keeping the lines of communication open is engrained or baked into our culture. Most departments meet with their team every day, but nothing less than once a week. It's the way everyone keeps up on what's going on. Those who leave our annual meeting go back and share what they have heard here, creating more connections and opening further lines of communication.
Q. Over the years, what has surprised you in these meetings?
A. What surprised me was learning that people wanted to hear directly from me - not just from department heads. I did not expect that. They want to know the person leading the company and know that person cares deeply about our business. This should not have surprised me as this is one thing you just cannot delegate. It's not your words, but just being present and giving of yourself personally that truly matters.
Q. Muncie Power has employees all over the country. How do you build relationships when a company has so many locations?
A. I learned early on in my career that being a successful leader means that you are present and available to those around you. Individuals believe in leaders who take the time to listen and understand their point of view. This means that layer-by-layer, you are invested and present. I try to visit every location every 12 to 18 months. With each person you work with as a leader, we believe you have a direct hand in his or her success. As a result, you should be personally invested in ensuring your direct reports have the tools they need to succeed.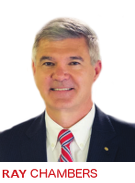 Ray Chambers - Chairman, CEO & President
Ray Chambers joined Muncie Power Products as Vice President of the Tulsa (Oklahoma) Division in 2004, became President of the company in 2009 and was named to his current position in January 2012. He holds a bachelor's degree from Oklahoma Wesleyan University and a master's degree from Southern Nazarene University in Bethany, Oklahoma. Mr. Chambers is a thought leader and visionary within the industry.
RECENT ARTICLES: