Featured in Muncie Power Quarterly, Issue 3, 2017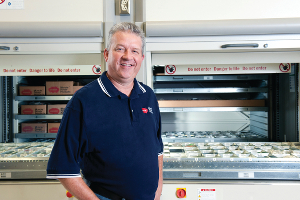 Enacting new processes or updating old ones to become a more efficient organization, business or department is not always easy. It takes a conscious effort on behalf of all of those involved to make the necessary changes to become more efficient.
One of the ways truck equipment industry veteran Muncie Power Products has achieved greater efficiency at its warehouse distribution center in Muncie, Indiana, has been with the addition of two lean-lifts, completed in August of 2015. Primary operator, Bench Assembler Joe Huff has seen firsthand how these lifts have made processes more efficient.
According to Huff, the lean-lifts are smart, storage units that have the ability to store products, parts or whatever might need to be stored in a vertical position. And while an applicable tool for companies like Muncie Power, the possibilities for a lean-lift are fairly endless.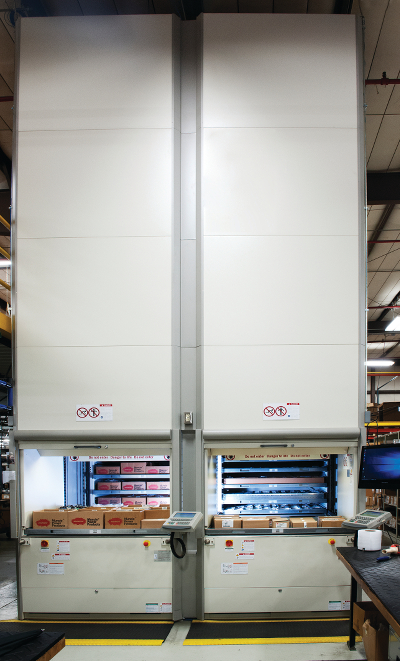 "It houses several trays and each holds 'x' number of parts depending on how you divide those up. Each one [lean-lift] right now currently holds about 44 trays," said Huff. "The max number is 75, but because of the way we store our materials we had to remove some trays. There's a little over 2,000 parts combined in those two lifts."
Before purchasing a lean-lift it is important to consider what will be put in the lift and its purpose to determine what options work best. For example, each tray within Muncie Power's lean-lifts can hold 1,100 pounds, as Huff noted, but another company may require more weight. And although each has its own controls, the lifts communicate so that if a part is housed in another lift the user is notified.
Beyond being a "space-saver," as Huff says, due to the lifts' abilities to store what once took up a whole portion of the warehouse within the two towers – the lean-lifts have freed up space for new assembly cell configurations and also resulted in increased productivity.
"It's somewhere in the neighborhood of 15 to 20 percent more efficient in pulling those parts than someone walking around the shop," Huff said.
This allows employees to work on more orders because the parts are pulled from the lean-lift by one person and then dispersed. In addition, the lean-lifts have also contributed to greater inventory accuracy, as the operator can print lists directly from the units to ensure inventory records match.
Some tips to keep in mind, as Huff shared, include paying attention to material packaging, keeping like items together, being aware of safety features and doing tray inspections. If a bag is flipped up, it will require more space. Similarly, group like items as the tray's space will be based on the tallest item. Also, make sure to do a tray inspection each time for packaging issues.
As Huff says, lean is about being more efficient and doing things smarter, not harder. The lean-lifts have done just that.
"I think with saving space and time it aligns directly with what we've set out to do," he said, noting inventory accuracy as well.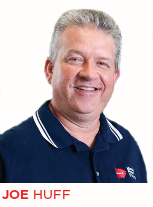 Joe Huff - Bench Assembler
Since beginning his career at Muncie Power Products 15 years ago, Joe Huff has served in various capacities. Starting in receiving, Joe moved to the bench and then CS cell before entering his current position, which includes operating the lean-lifts and overseeing the kitting cell. He is married to his wife, Becky, of 18 years and they have one daughter named Alexis – a junior at Cowan High School. Joe enjoys attending his daughter's volleyball games.
RECENT ARTICLES: