Featured in Muncie Power Quarterly, Issue 4, 2017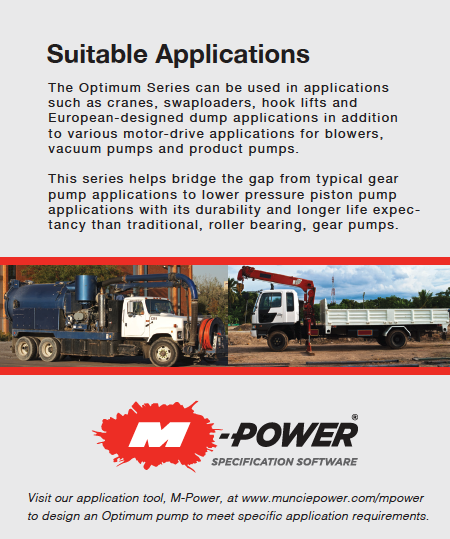 Muncie Power Products' Optimum Series is an innovative line of gear pumps/motors designed to provide users with long product life.
Its patented technology and bushing-style design allow for this longer life expectancy, as these features result in increased durability to better withstand normal wear.
While bushing-style, gear pumps are known for their ability to achieve longer life over their traditional, roller bearing counterparts, the Optimum Series outlasts even when compared to similar, bushing-style, gear pumps.
With its patented OPTI-Grip® technology, the Optimum Series bushing-style, gear pumps utilize a two-piece casting design opposed to the traditional three-piece. It's this technology that allows the Optimum Series gear pumps to resist casting separation or ballooning, which significantly contributes to the line's longer life expectancy and high-performance capabilities.
Unlike previous pump technology within the United States that delivered lower pressures at higher flow rates, the OPTI-Grip technology used within the Optimum Series helps deliver higher pressures at given flow rates – which allows for more accurate control over system components and enhances overall hydraulic efficiencies.
OPTI-Grip technology results in the ability to use components that are not only smaller but that use less oil and weigh less. This translates into a reduction in overall vehicle weight, which can contribute to better fuel efficiency and savings.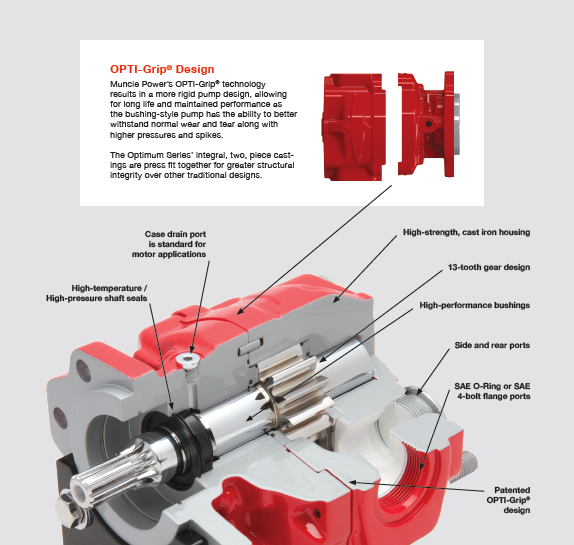 RECENT ARTICLES: