Meet the CEO's Right-Hand "Man"
Featured in Muncie Power Quarterly, Issue 1, 2016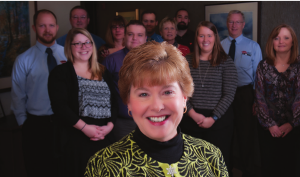 As executive administrative assistant to Muncie Power Products' Chairman, CEO & President Ray Chambers, Liz Ludwick is a veteran of the corporate and nonprofit worlds, helping to foster the company's family environment as it continues to grow.
"It just seems natural and I love doing it," said Ludwick. "I have a dream job, I would say."
In her years of working as an administrative assistant for various executives, Ludwick's duties have included everything from coordinating action items for projects, meetings and company development to organizing corporate events for small and large groups of over 300.

On a daily basis Ludwick will juggle many duties and tasks including: sitting in on business meetings to provide notes, coordinating action items, composing correspondence and reports, coordinating travel for the executive staff, leading Muncie Power's Wellness and Engagement Team and serving as the liaison between the company and community.

In the midst of completing these duties, Ludwick also brings a knack for event planning, coordinating all company-wide, social events like the holiday meals, retirement receptions, employee recognitions and luncheons.

Providing a key component to keeping morale high and employees engaged, Ludwick does a great job of letting employees know they matter.
It takes a special person with "woo" like Ludwick to "rally the troops." With her natural ability to motivate others, organization and proficient social skills (all traits of "woo" strength theme), she adds a crucial, desired skill set to help foster the company's family environment.
"Investing time in making connections with our employees is important to me from a professional and personal standpoint," Ludwick said. "Each employee is a part of my team, my work family, and the more we know each other's skill set, the more we can help one another and the company to succeed."

It's through these connections and Ludwick's leadership strengths like creating conversation and engaging others in the exchanging of ideas that she helps the company continue building a network of trust, support and communication.

Communication is key within an organization like Muncie Power Products, as demanding schedules can make it difficult to gain access to the executive team. In which case, Ludwick can provide guidance, putting a face to the executive team when its members are unavailable.

"Serving as a bridge between our executive team and our employees is one of the aspects of my job that I enjoy the most," she explained. "I'm proud to be an extension of Mr. Chambers and the executive team."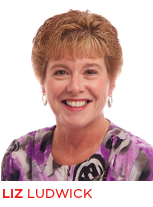 Liz Ludwick - Executive Administrative Assistant to Chairman, CEO & President

Ludwick, a native of Muncie, is a graduate of Indiana Business College (now Harrison College). Before joining the Muncie Power Products' team five years ago, Ludwick worked in the office of university development at Ball State University and for Ontario Corporation. Her husband, Jake, is a retired dentist and a private pilot. Ludwick, also an avid flier, has flown solo. The couple enjoys traveling and spending time with family and friends.

RECENT ARTICLES: