Moving Forward with the Right Team
Featured in Muncie Power Quarterly, Issue 3, 2015
Q. Why were you drawn to work at Muncie Power Products?
A. I was impressed with the leadership of the company, that was one big plus when I interviewed. I've been in the heavy truck industry for 20 years, and I know that the company has a great reputation and great products.
Q. What does the district sales director for distribution job entail?
A. I live in Fort Wayne, but split my time between Muncie, travel and Fort Wayne. I have 12 zone sales managers nationwide and we are working to build a cohesive team as we go through some changes and continue to grow.
My job is to help the transition go smoothly and to help drive new sales through the distribution channel.
Q. What is the secret to growing a sales territory?
A. Some people will tell you that it is all about price, but I don't believe that. Relationships matter. At Muncie Power, we are very focused on relationships, both internally and externally. Those relationships and our value proposition are a big part of our success.
The distribution pie is $12 billion a year, but it's constantly being segmented.
How that is divided up is changing, and that's going to be the biggest challenge for us — getting the distribution right. We're always going to have other companies that start getting into our sandbox.
Q. Describe your leadership style?
A. I would describe my leadership style as democratic. I believe that input from the field is critical as we move forward and it helps considerably that I have experience being out in the field.
In my past, I had a 14-state territory that generated $33 million in revenue. I can relate to what it is like to work a territory.
Q. What markets do you see as growth areas for the company?
A. We need to redirect our efforts on the distribution side so we can realize new opportunities in the market. We are beginning to focus on the fleets, the dealers, the distributors and the municipalities.
We should be calling on the top 10 counties and cities in each state and the top 20 largest electric utilities and find out what equipment they are buying.
Our goal is to make sure when they buy equipment they buy from Muncie Power Products. This is just the tip of the iceberg.
Q. What will be central to the company's success as it moves forward?
A. We have a lot of new products in the pipeline that will add to our offerings. I think there are a number of great opportunities ahead. Where there's a bright future for the company, there's a bright future for the people who work here.
Q. What will the industry look like in 2025?
A. We're not really sure. We are making changes to really drive sales in the direction we need to. I believe the key is to have the right people, products and services in place.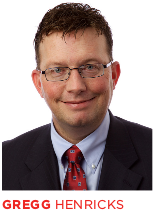 Gregg Henricks - District Sales Director for Distribution
Gregg Henricks, a veteran of the heavy truck industry, came to Muncie Power Products three and a half years ago. Henricks is based in Fort Wayne, Indiana, where he and his wife, Jennifer, reside with their two, teenage daughters. In his free time, he enjoys golfing and spending time with his family. He takes pride in having one of the best lawns in his neighborhood.
RECENT ARTICLES: