Setting a Culture for Growth
Featured in Muncie Power Quarterly, Issue 2, 2015
Q. What exactly does a CFO do?
A. People know that I work with budgets and financial statements, but they might not realize that I am very focused on incorporating a Lean culture throughout our company. Focusing on our external as well as our internal customers, so as to consistently provide superior customer service, enables all of us to succeed. As we continue on our Lean journey, I strive for additional ways to connect all areas of the company together towards this common goal.
Q. What is one of your biggest goals as the company's CFO?

A. Muncie Power is focusing on four key elements for 2015, which include quality, new products, capacity and the development, training and education of our employees. Full integration that links our operational and reporting modules within Friedman is key to supporting and sustaining these focus areas. This will include looking for ways to standardize processes, whenever possible, between manufacturing and distribution and incorporating Lean within our support groups. This will improve efficiencies, free up capacity for more value-added activities and streamline the process of introducing new products into our system. This has been and will be my largest focus as CFO for some time to come.
Q: What makes your job most fulfilling?
A. People. Hamer Shafer (former CEO) instilled in us core values that are the nucleus of who we are today. I enjoy working with people who are passionate and engaged and being a part of a family that understands the importance of giving back to the community. Respect for ourselves and for one another is imperative. A positive attitude and a team-oriented environment are important. I get great satisfaction in all of these facets of our company and am proud to tell my friends and family that I am a part of Muncie Power Products.
Q: Through growth and acquisition, Muncie Power Products has become a major manufacturer and distributor with multiple locations. What challenges has that created?
A. For me, integration is one of the biggest challenges. Also, we must continue to incorporate a Lean culture throughout our company. As we introduce new products through internal development and acquisitions, instilling a culture of Lean will be key to our sustained growth.

Q. In your job, how much of the technical aspects of the products do you need to know?
A. I go to a few trade shows and take time to walk with the engineers and sales people. I work with several strategy teams and regularly visit and tour our facilities. This gives me a good perspective on our technical applications as well as the type of customers and markets we service. This knowledge is helpful as we standardize processes and work towards full integrations.
Q. How has the company managed to grow during tough economic times in the United States?
A. We base our decisions not only for the benefit of the present, but on what will be best for our company three to five years from now. In the last major economic downturn, we saw a lot of companies make drastic cuts that may have helped in the short term but hurt them in the long term. Making decisions that are beneficial in the long term is key to sustaining growth and stability.
Q. What is the company's current financial outlook?
A. This year marks the company's 80th anniversary. We broke company records in 2013 and even more records throughout 2014. With our focus on long-term growth, people, quality and superior service to our customers, our financial outlook is bright and sunny, with no chance of precipitation.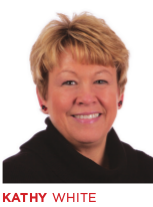 Kathy White - Chief Financial Officer
Chief Financial Officer Kathy White, a CPA and graduate of Ball State University, began working at Muncie Power Products seven years ago as the Corporate Controller and has held her current position as CFO since January 2012. Kathy and her husband Doug, both natives of Muncie, have been married 28 years. Animal rescue, specializing in the adoption and fostering of elderly and special-needs animals, is one of their heartfelt passions. They currently have five Pomeranians and a Yorkshire Terrier.
RECENT ARTICLES: