Ray L. Chambers - Chairman, CEO & President
Featured in Muncie Power Quarterly, Issue 2, 2018
If you've worked in business for as long as I have, odds are you've encountered a micromanager somewhere along the way. By micromanager, I mean a good person who knows their stuff and means well, but when it comes to being a leader they miss the mark. Instead of equipping, training and supporting the people within their organization to fix departmental problems and follow established processes, they're chasing after problems like there's no tomorrow. I see it all too frequently, people trying to do it all when their focus should be on the organizational issues. And it begs the question – if they are focusing on departmental problems, then who is focusing on the organizational issues?
Take for instance an airline pilot. While on the flight, the pilot is the captain and leader of the crew. The pilot's job is to get the plane and all of its passengers safely from point A to point B; that's their focus. Now imagine, if the pilot decided to leave their post and assist a passenger every time their help light came on; even though, there are people on board who have been hired and trained to do so. I don't know about you, but I'd be hoping it's not the copilot's first day flying a plane. It just doesn't make sense, right?
So, I have to say it, stop the madness! Problems are imminent; they're going to happen. What we need to do is go back to the basics, to ensure that those within our departments and organizations have the skill set, training, resources and support necessary to succeed. As leaders, that's our job to solve the organizational issues, remove roadblocks and ensure our people have the knowledge and tools to handle issues that arise. Trying to control things we can't only leads to turmoil in the workplace and drives people to the water cooler. By focusing on the basics – our organization and supporting our people – we're on track to successfully go from point A to point B.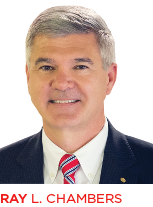 Ray L. Chambers - Chairman, CEO & President
Ray Chambers joined Muncie Power Products as Vice President of the Tulsa (Oklahoma) Division in 2004. He became President of the company in 2009, and was named to his current position in January 2012. He holds a bachelor's degree from Oklahoma Wesleyan University and a master's degree from Southern Nazarene University in Bethany, Oklahoma. He is a thought leader and visionary within the industry.
RELATED ARTICLES: