The P58 Series PTO for the Paccar TX-8 transmission
Jim Abbott – Product Planning and Application Engineer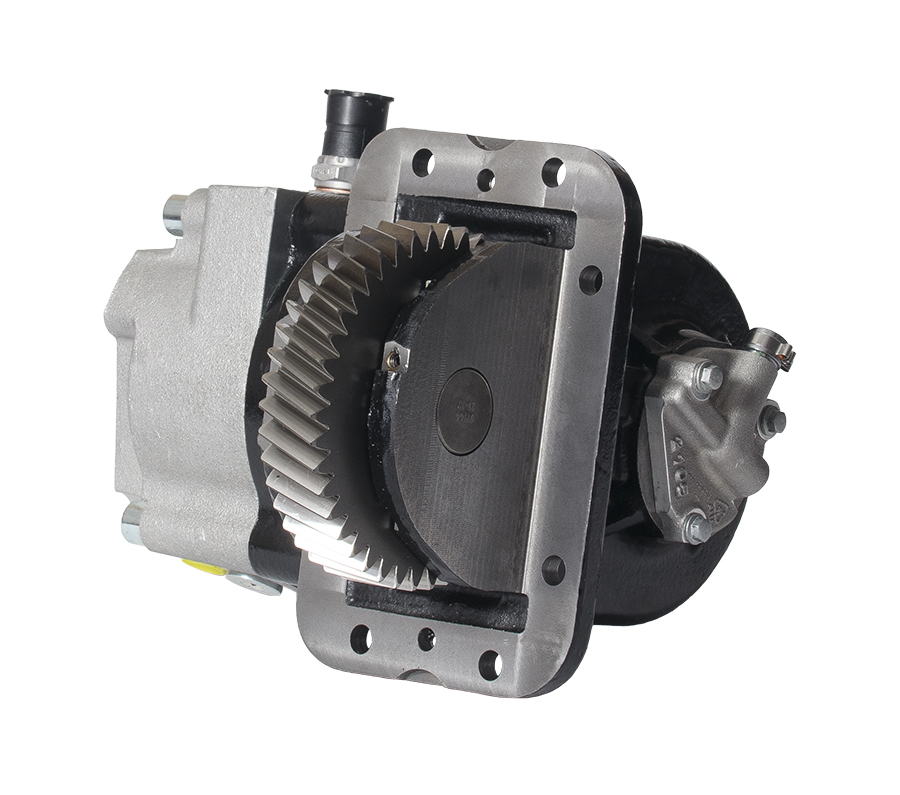 The P58 Series power take-off (PTO)—which is manufactured by our sister company, Interpump Hydraulics—is available for the PACCAR TX-8 transmission.
The PACCAR TX-8 is a medium-duty, automatic transmission available only in PACCAR trucks. The PTO opening is a proprietary 8-bolt pad, located on both sides of the transmission. The transmission is manufactured by ZF, and will have a ZF tag on the transmission with POWERLINE listed as the model.
Trucks must be ordered with the correct PTO prep codes in order to have correct PTO capability.
PTO Prep Codes
4233510 – Park Brake Interlock for Transmission Mounted PTO
4233900 – (1) Dash MTD Single Acting EOA PTO CTRL Electric Over Air
The P58 Series also requires one of the following:
4257110 – LH Mounted Trans PTO Provisions
4257120 – RH Mounted Trans PTO Provisions
Basic specifications for the P58 Series PTO:
420 lbs.ft. continuous/intermittent torque rating
121% of engine speed
Air shift only
Available for right or left hand opening (dual PTO applications not permitted at this time)
Available with SAE B 2- and 4-bolt, DIN 5462, or 1310 companion flange outputs
Please note that direct mount hydraulic pumps over 20 lbs. (including hoses, fittings, etc.) will require a pump support bracket.
RELATED: Pump Support Bracket Implementation and Design
Stationary and crawl modes are the only available PTO modes at this time. Mobile mode is not available.
The transmission can only support a single PTO. Applications using two PTOs are not permitted.
For information on installation:
RELATED ARTICLES: