What Think Week Taught Us
Featured in Muncie Power Quarterly, Issue 3, 2015
Addressing big-picture topics is part and parcel of running a global company. Taking the view from 30,000 feet is supposed to give you the perspective you need for guiding your team through the workplace labyrinth, right? Absolutely. Equally taxing is finding the time to get the work done - that you've identified from that vantage point.
At Muncie Power Products, we've adopted a bold, new kind of calendar that makes the important work of taking on big topics consistently a priority in our company. One week - every month - is "Think Week." Our management group along with our company's up-and-coming leaders are part of a team that is tasked with strategy execution.
It seemed every time we had a particularly pressing matter, organizational deficiencies held us back. Either we couldn't get everybody to the same meeting, at least to the same meeting regularly, or there was another roadblock.
Microsoft CEO Bill Gates started the "Think Week" concept years ago when he would seclude himself to retrench and refocus on his company. Then, the concept expanded to Microsoft managers. But it was once or twice a year.
Our twist on "Think Week" is that it is a monthly commitment at Muncie Power Products. We clear our calendars to focus on the priorities we've identified.
Here's how it works, some lessons learned and suggestions about how you can adopt a strategy to think big-picture and solve some complex problems in your company.
1. Major rewards require major commitment: Designating this much time on important topics absolves you of the natural guilt you feel when you're concentrating on one thing, yet know there are so many other matters that need your attention.
2. It takes a village: If you operate in functional silos, you spend all your time managing communications and never getting ahead of the change.
This much time to focus means the list of outstanding things that need to be done, actually get done.
3. Focus, focus, focus. During "Think Week," there's nothing else on the calendar.
We identify the areas to be addressed, assign individuals topics and determine how much time or how many meetings it is expected to take to resolve the problem. In between, individuals are assigned tasks that will set the stage for the "Think Week" discussions.
4. Be intentional: Everyone is present during "Think Week."
There's no excuse for not being there because we plan for it. And we discuss topics in a variety of settings but each has a purpose. We break bread together. We walk through issues together. We strive to be thorough.
5. Get out of the office: We use the rest of the month to do what we've always said we should do more. We're in front of customers, our industry and employees.
We're interacting the rest of the month with the people who make our business what it is. We're traveling. We're out of the office.
6. Involve your future leaders: We include our top leaders and we intentionally bake in our future leaders. We know some day we won't be here and we want people to have the backdrop of why we made the decisions we did.
7. It's ongoing: We're more than half way through our first year using this kind of calendar and it's working. We're getting big jobs done. Going forward, we'll have fewer topics but they'll be meatier.
8. Collective wisdom: It's the team's collective wisdom that makes "Think Week" work. As you review problems, you'll look at the plan, the cost and the timeline. You need everyone at the table to find solutions.
9. Not for the faint of heart: This is an intense calendar schedule and the work is difficult. We would not have been able to do this just a few years ago, but we've worked our way to this point.
You'll have to find the right time for your company.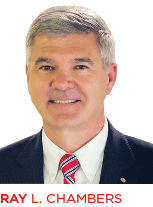 Ray L. Chambers - Chairman, CEO & President
Ray L. Chambers joined Muncie Power Products as Vice President of the Tulsa (Oklahoma) Division in 2004, became President of the company in 2009, and was named to his current position in January 2012. He holds a bachelor's degree from Oklahoma Wesleyan University and a master's degree from Nazarene University in Bethany, Oklahoma. He is a thought leader and visionary within the industry.
RELATED ARTICLES: