Interpump Hy-Vacuum - SAE 100R4 TFS0004
APPLICATIONS:
Agriculture, Construction, Mobile Hydraulics, Industrial Hydraulics
APPLICABLE SPECS:
SAE 100R4
Vacuum-resistant in accordance with SAE 100R4 specifications.
Suction Line
Internal hose: Oil resistant synthetic rubber.
Reinforcement: 2 textile braids + 1 helical wire.
Covering: Synthetic rubber resistant to oils, fuels and atmospheric conditions.
Recommended fluid: Petroleum-based hydraulic fluids (mineral oils), glycol-water based, water, lubricants.
Operating temperature: -40°F to +212°F (-40°C to +100°C); -40°F to +158°F (-40°C to +70°C) for water based fluids; +32°F to +158°F (0°C to +70°C) for water.
Brochure
Hose & Fittings Brochure

MM16-03
Hose & Fittings Information Sheet

MI19-22
Hydraulic Hose Catalog

MM19-02
Introduction and Technical Information

MM19-01
One-Piece Fittings Catalog

MM19-03
Quick Reference
Hose & Fittings Quick Reference Guide

MI19-02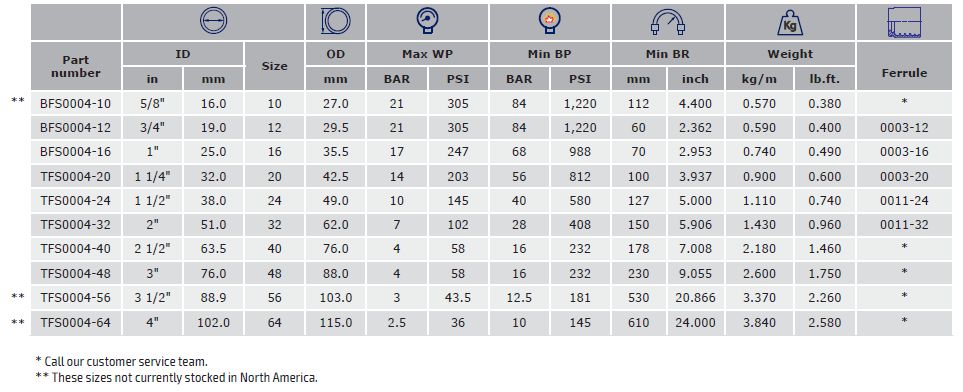 Muncie's Hydraulic Hose and Fittings are warranted against any defect in material and workmanship, under normal use and operations, which existed at the time of sale by Muncie Power Products, according to the following provisions, subject to the requirements that the product must be used only in accordance within catalogued product specifications, applications, and performance.
The hydraulic hose and fitting product line is warranted for a period of two years from the date of sale and invoice from Muncie Power Products. If during the warranty period the Hydraulic Hose and Fitting products fails to operate to Muncie Power Products' specifications due to a defect in any part in material or workmanship that existed at the time of sale by Muncie Power Products, the defective part will be replaced, at Muncie Power Products' election, at no charge, if the defective part is returned to Muncie Power Products.
WARNING: The above warranty shall terminate for any products subject to improper storage, improper installation, accident, misuse, neglect, abuse, normal wear, and any products provided as a sample or prototype.
The foregoing warranty is in lieu of all other obligations and liabilities, including negligence and all warranties of merchantability and suitability, expressed or implied, and state Muncie Power Products' entire and exclusive liability and buyer's exclusive remedy for any claim of damages in connection with the sale, repair or replacement of the above goods, their design, installation or operation. Muncie Power Products will in no event be liable for any direct, indirect, special, incidental or consequential damages whatsoever, and our liability under no circumstances will exceed the contract price for the goods for which liability is claimed.