Featured in Muncie Power Quarterly, Issue 4, 2017
For those within design like Creative Services Manager Michelle Davis, explaining brand identity can be challenging as often when people think of brand identity they think of just one element that illustrates the brand.
Brand identity however is not just the company's brand, its identity or its logo but how all of these elements come together to represent the company. And its these elements that work together to distinguish the company within the marketplace.


Defining Your Company's Identity
"The easiest way to explain brand identity is the correlation between brand, identity and logo," she said. "They are all interrelated."

To understand brand identity, it may help to think of it in terms of the concept illustrated within the popular riddle – which came first, the chicken or the egg? Like the chicken and the egg – brand, identity and the company logo are all different yet they build off one another. Just as there cannot be a chicken without an egg or an egg without a chicken, a company's brand identity cannot exist without its brand, identity and logo.
"Brand is the perceived persona or corporate image of the company as a whole. When I talk about identity I talk about the visual aspects – letterhead, literature, ads, website, videos – that's your brand's identity," explained Davis. "And then there's your logo, that's the simplest representation of the company."


Establishing A Brand Identity
When establishing a brand identity, consider these elements included in Muncie Power Products' brand identity. According to Davis, for Muncie Power Products this includes the company's name, logo, design elements, style, tone of copy and composition of products. Remaining consistent to the company's brand identity will then be key moving forward once it is established.

Corporate brand identity consistency takes you to the next level in marketing. Consistency makes your brand feel more dependable – part of building trust. You don't want to be perceived as being unpredictable or inconsistent to confuse customers. If too much inconsistency, it may come off as untrustworthy." – Michelle Davis
Setting Guidelines
And so, for this reason, it's important to have guidelines in place to serve as a guide and to protect the company's brand identity by maintaining consistency. This doesn't mean that the guidelines are the end-all, be-all however.
"Corporate identity is usually assembled within a set of guidelines and is kept consistent allowing the brand as a whole to be recognizable; however, these guidelines should allow for flexibility and variation," Davis said. "Not random, but within the set guidelines."
For companies like Muncie Power with various, differing products, consistency and flexibility will be critical to marketing the products effectively and to accommodate the differences among products.

A consistent brand identity within the marketplace also has its benefits. According to Davis, these include name recognition, user experience and clarity of message. While the goal will be to empower employees to own brand identity, as Davis noted, it's important to remain vigilant as a misunderstanding can result in off-brand, rogue creations.
Understanding a company's brand identity isn't easy, but once its identity has been found – its brand identity that is – it makes the company that much stronger and consistent in the eyes of its customers.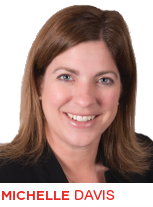 Michelle Davis - Creative Services Manager
A graduate of Indiana State University with a Bachelor of Fine Arts specializing in graphic design, Michelle Davis has been with Muncie Power Products for nearly three years. Her hobbies include photography and gardening. An avid soccer family, Michelle played, coached and now attends games for her two sons who share a love for soccer as well. Her sons keep her busy outside of work as she attends and supports their many endeavors including orchestra, running and academics – just to name a few.
RELATED ARTICLES: