Pre-Wet Package Options Available for All Truck Sizes
Muncie Power Products, Inc. offers pre-wet packages for all truck sizes.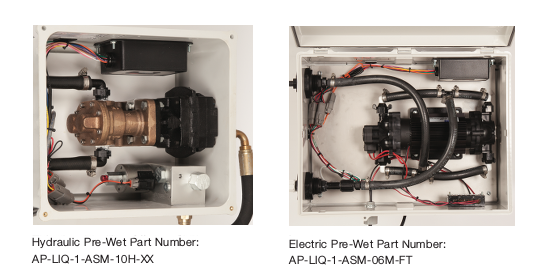 The pre-wet packages are available in hydraulic and electronic drives. Muncie Power's hydraulic pre-wet features three different models with 15 GPM max hydraulic flow, independent hydraulic or auger exhaust options and a maximum liquid pressure of 100 PSI.
The electronic pre-wet has two models available, one with 3 GPM (10 Amp) and one with 6.25 GPM (20 Amp). Each of the electronic pre-wet models has a maximum output pressure of 45 PSI.
All products have proportional electronic control for greater accuracy.
The pre-wet packages are configurable to work with Muncie Power Products' snow and ice systems as well as other systems on the market.
Open and closed loop models are available in most configurations.
RELATED ARTICLES: