Featured in Muncie Power Quarterly, Issue 3, 2016
When the sales team at Muncie Power Products identified a customer need within the snow and ice market, the Technology Solutions Group got to work.
As a result, the V080 Hybrid system – a hydraulic system allowing for the operation of simultaneous functions requiring less plumbing, simple set up and easy operation – was born.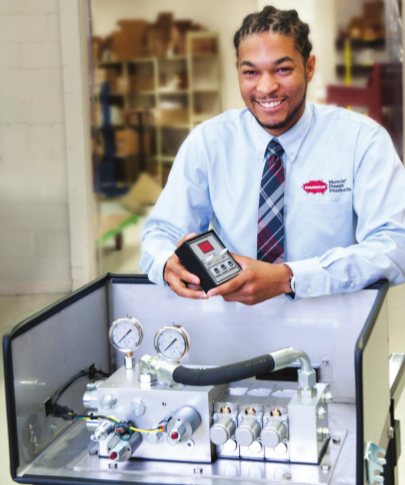 "The name 'hybrid' describes the two valve technologies we are utilizing," explained Product Engineering Technologist James Green – member of the Technology Solutions Group. "With this product, we are interfacing traditional sectional valves with a cartridge valve manifold."
An open center hydraulic system, the V080 Hybrid provides the truck operator with the ability to simultaneously control multiple functions such as a plow or hoist in conjunction with the spreader system thanks to this unique circuit design combining valve technologies.
"We are able to simultaneously keep the spreader running while a cylinder is being actuated without using a tandem pump, external flow divider or without post compensation," Green shared.
Primarily used for medium duty trucks to control a plow, hoist and spreader, the V080 Hybrid does allow for additional valve sections to be bolted on for further cylinder functionality.
Combining traditional sectional valves with a cartridge valve manifold also decreases the number of hoses required.
"Due to the design, we were able to eliminate much of the plumbing normally associated with comparable systems," elaborated Green. "The need to plumb a high-pressure carry over or flow divider is eliminated."
And by reducing external plumbing reliability is increased and installation time reduced as there are fewer hoses being utilized, resulting in fewer potential leak points.
Showcasing the best of both worlds, the V080 Hybrid not only features the latest in technology but also easy operation and simple set up.
"In addition to our high-end electronics, many customers want to keep it simple.The V080 Hybrid utilizes cable or air controls, which is a very basic way of controlling cylinder functions," said Green. "In addition, we are utilizing the MESP 300 controller, which is our basic, entry-level spreader control."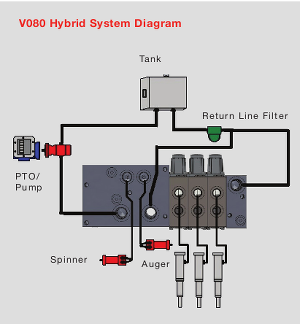 The V080 Hybrid is what would also be known as a turnkey system. This means that it is a complete package that is ready to go, making its set up easy. The entire package includes the spreader controller, valve assembly, power take-off, pump, reservoir and valve enclosure.
"It's a turnkey, ready system," said Green. "When ordered, we will have the system completely assembled, and the user simply mounts and plumbs to the truck."
In essence, installation requires three wires and whatever hoses are necessary to run to the cylinders and mount the system. As a turnkey system with entry-level, electronic controls for ease of operation, the system is an efficient yet budget friendly solution.
The Technology Solutions Group isn't done yet, as the team is already looking to expand the series.
"In the future we will be considering a similar product that is adaptable to a larger sectional valve for higher cylinder flow rates," said Green. "We'd like to adapt this product to the larger V130 sectional valves."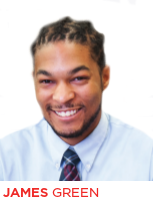 James Green – Product Engineering Technologist
James Green has been with Muncie Power Products since September 2014 and is a part of the company's Technology Solutions Group. He holds a Bachelor of Science in design engineering technology from Trine University and is a member of Phi Kappa Theta fraternity. James continues to stay active within his fraternity as an alumnus. His other hobbies include: running, cycling, coaching wrestling and riding motorcycles.
RECENT ARTICLES: