Wet Line Kits for Dump Trailers: Two-line vs. Three-line
Dave Douglass – Director of Training & Education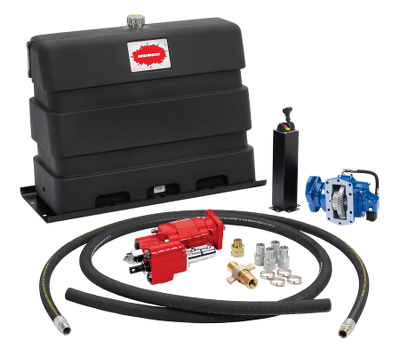 Muncie Power Products—back then Muncie Parts Manufacturing Company—was, in the early 1970s, the first in the industry to market a wet line kit. Until Muncie Power developed the idea of an all-inclusive kit, truck equipment installers had to separately source the needed components: PTO, dump pump, reservoir, control console, and hoses from multiple vendors. By packaging all of the components in kit form, Muncie Power made specifying and purchasing the hydraulic system for a dump trailer much simpler.
While Muncie Power has always offered both two- and three-line wet line kits, we have always strongly recommended the three-line kit for several reasons including:

• Faster cycle times: Three-line systems, while they do not raise the dump trailer faster, they do allow it to lower in less time by minimizing restriction in the tank return line. This is especially important with aluminum trailers on windy days!
• Keeping the system cooler: In applications like road construction, where material is spread rather than simply dumped, the dump pump may spend many minutes in the "hold" position. Three-line systems continually circulate oil back to the reservoir while in "hold" to keep system temperatures lower.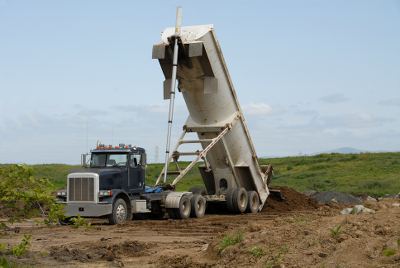 • Fewer pump failures: A common cause of dump pump failure in a two-line system is overheating, resulting from an operator's failure to disengage the PTO before leaving the dump site. As they drive down the road with the PTO engaged, oil rapidly heats up inside the pump and will, in short order, damage the pump beyond repair. Three-line systems, by circulating oil back to the reservoir for cooling, can substantially limit this type of pump damage.
• The ability to add a filter: In a two-line system, oil must flow in both directions through each hose depending on which part of the dumping cycle one is in. Since filters are designed to work with oil flow in only one direction, a two-line system cannot be filtered. Because the three-line system has a dedicated return line, a filter can be incorporated. Keep in mind, however, that when a dump trailer is being lowered, oil is returning to the reservoir at a high flow rate and an undersized filter can become a restriction. Muncie Power recommends a return line filter capable of handling flows upward of 70 GPM on the return side.
• An extended warranty: Muncie Power is confident in the advantages of a three-line wet kit system that we offer an extended warranty (two years) on the three-line dump pump versus the standard, one-year warranty on a two-line pump system.

Considering all of the above advantages, why not go three-line?
CONFIGURE YOUR WET LINE KIT
RELATED ARTICLES: