Navigating Muncie Power's Online Power Take-off Service Parts Manuals
Aaron Clevenger – Field Sales Manager
Within my role at Muncie Power Products, I've noticed an influx in the amount of calls I receive on service parts; even more so, how to find the part number for a service part or an installation diagram. This is understandable, as there are users who prefer to fix their trucks, rather than purchase new.
There is a way to find what you're looking for, and it's all available on the Muncie Power website.
Customers may be familiar with the tools Muncie Power offers online such as the PTO Builder and Crossover Tool. Everyone can effortlessly access our service parts manuals online as well. Service parts manuals are easy to find among all of our product lines. Within these files, you can simply identify what part you are looking for to figure things out in a timely manner. Several of our customers possess physical service parts manuals. However, should Muncie Power make a change to a product, the physical manuals can become outdated. This is where the online manuals are advantageous, as they are always kept up-to-date.
Here are key components you'll find in a typical service parts manual:
Model number construction (Figure 1)
Exploded view of the product (Figure 2)
Parts list (Figure 2)
Mounting information (Figure 3)
Installation diagrams (Figure 4)
Product dimensions (Figure 5)
Rebuild and gasket kit information (Figure 6)
The model number construction breaks down the PTO part number. This can also help you navigate the parts manual during your search. The model construction will help in identifying what each section of the PTO part number signifies.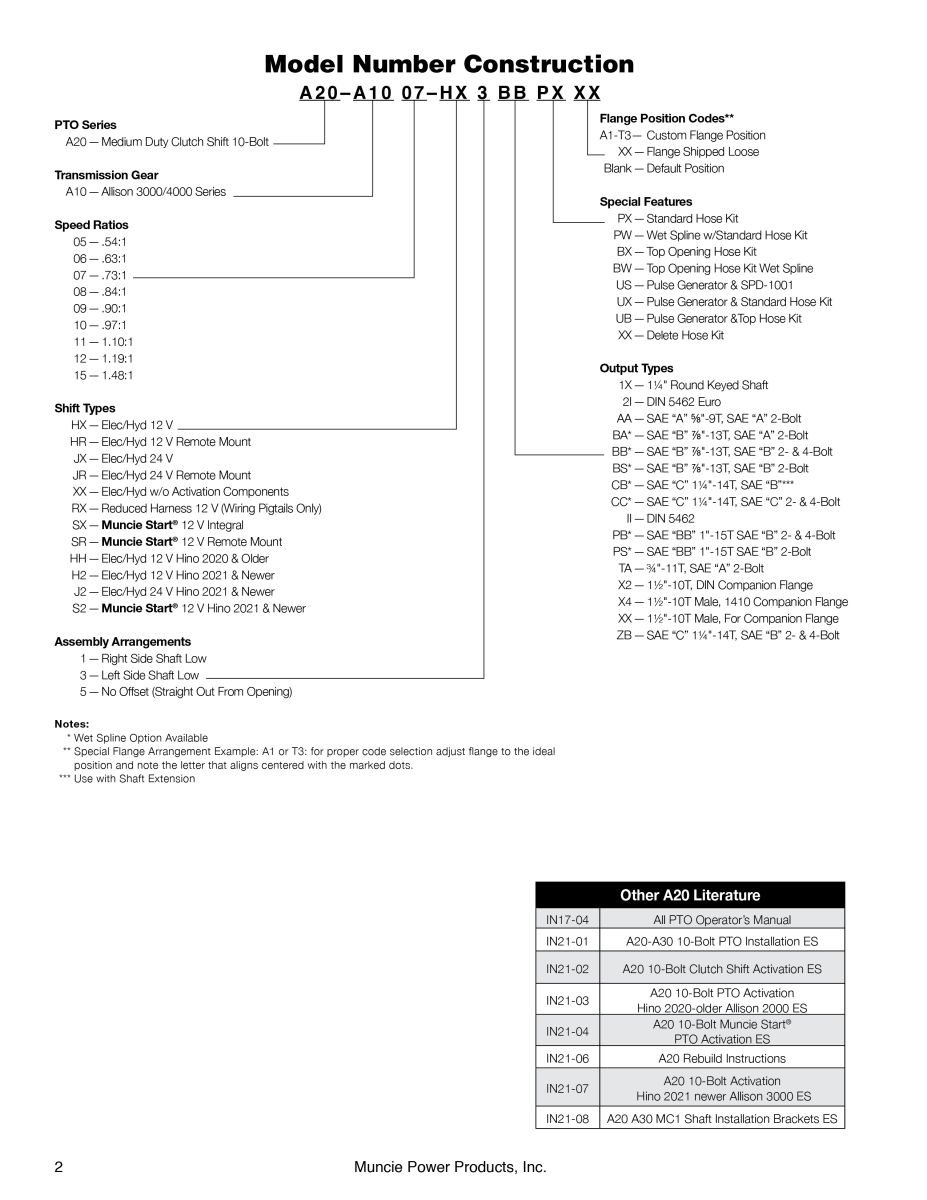 FIGURE 1
Exploded view of the product shows how the product is assembled. PTOs contain many parts so the service parts will often break them down further in to different details. Each detail will then have its own list of part numbers and descriptions. The exploded view helps pin point a specific part number. The parts list gives quick access to the Muncie Power part number.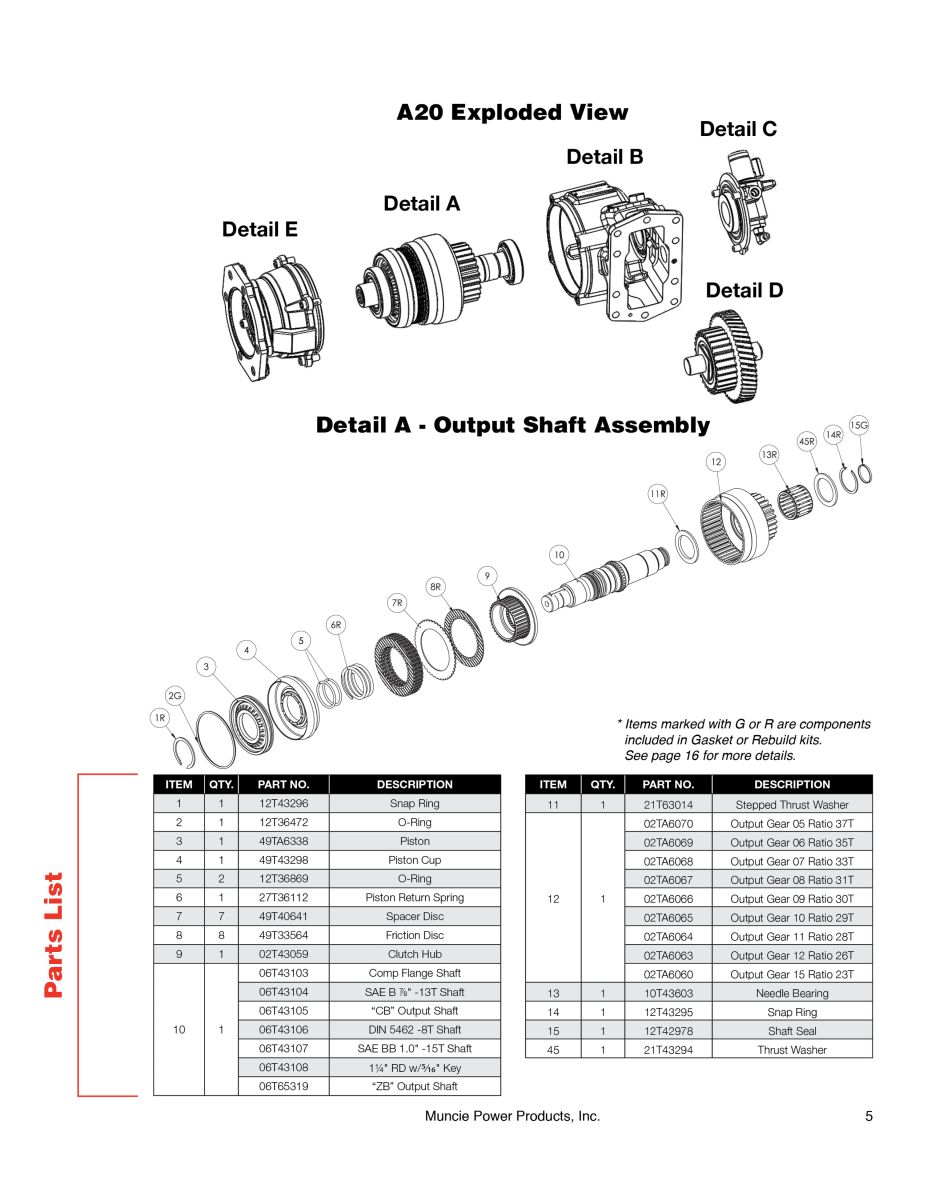 FIGURE 2
Mounting information identifies specific stud kits and gaskets for each PTO. This section lays out each part number that is included in stud kits and gasket kits if available for the PTO.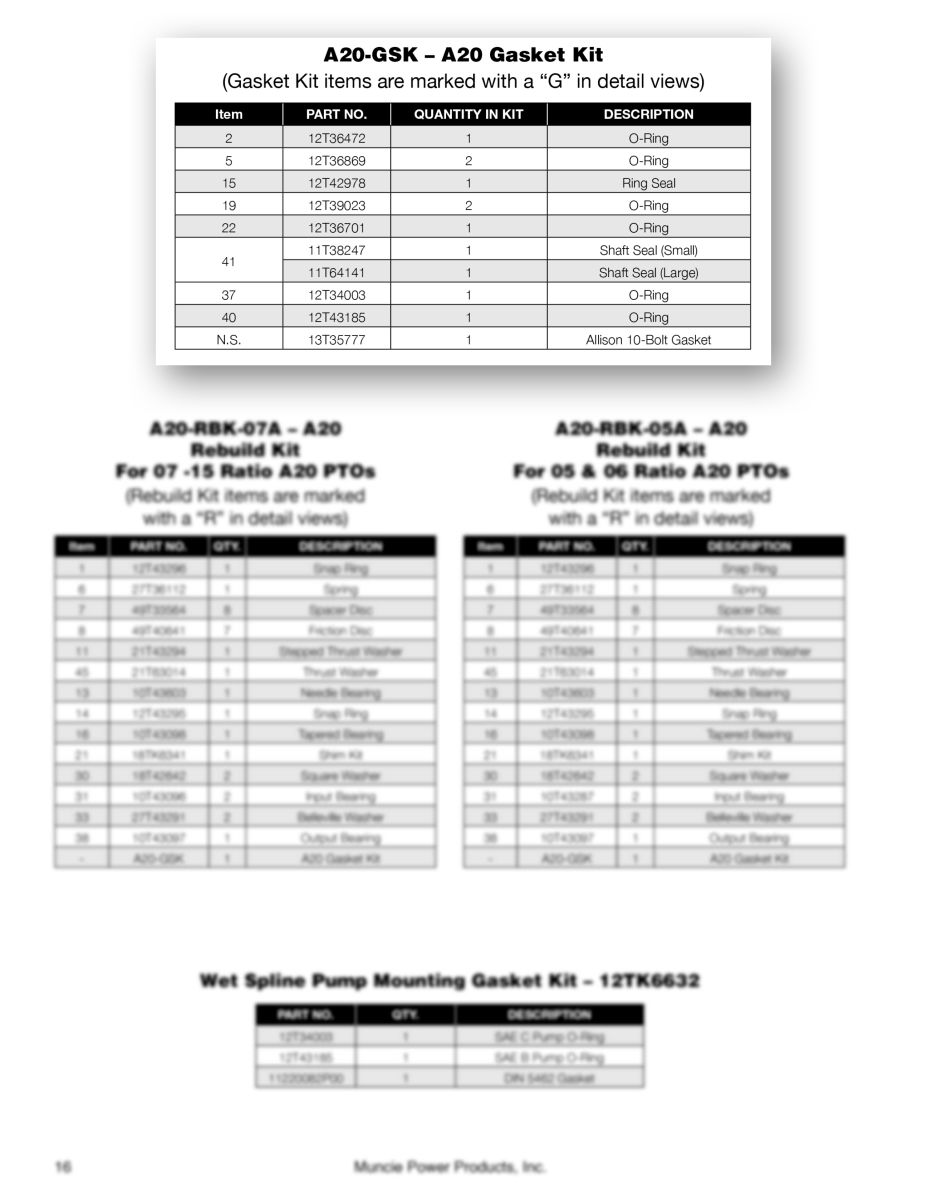 FIGURE 3
Aside from part identification, the largest volume of inquiries are based around installation diagrams—specifically activation kit instructions. Muncie Power provides useful diagrams within the parts manual to make all the proper connections. This is also a great visual when troubleshooting new installs.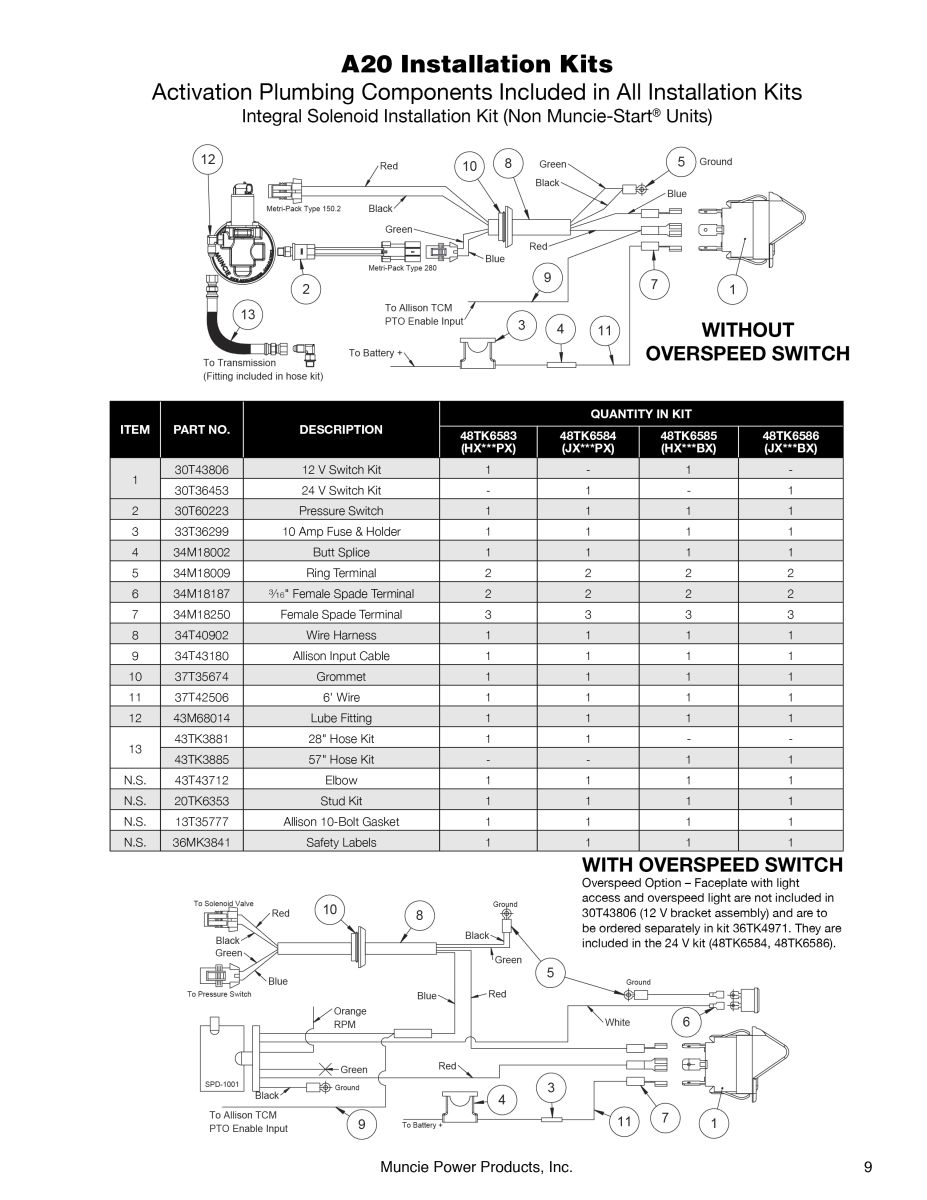 FIGURE 4
The product dimension diagrams gives a frame of reference on what kind of clearance you have to mount the PTO as well as how it will fit underneath a truck. These diagrams can also help determine where the pump can be attached.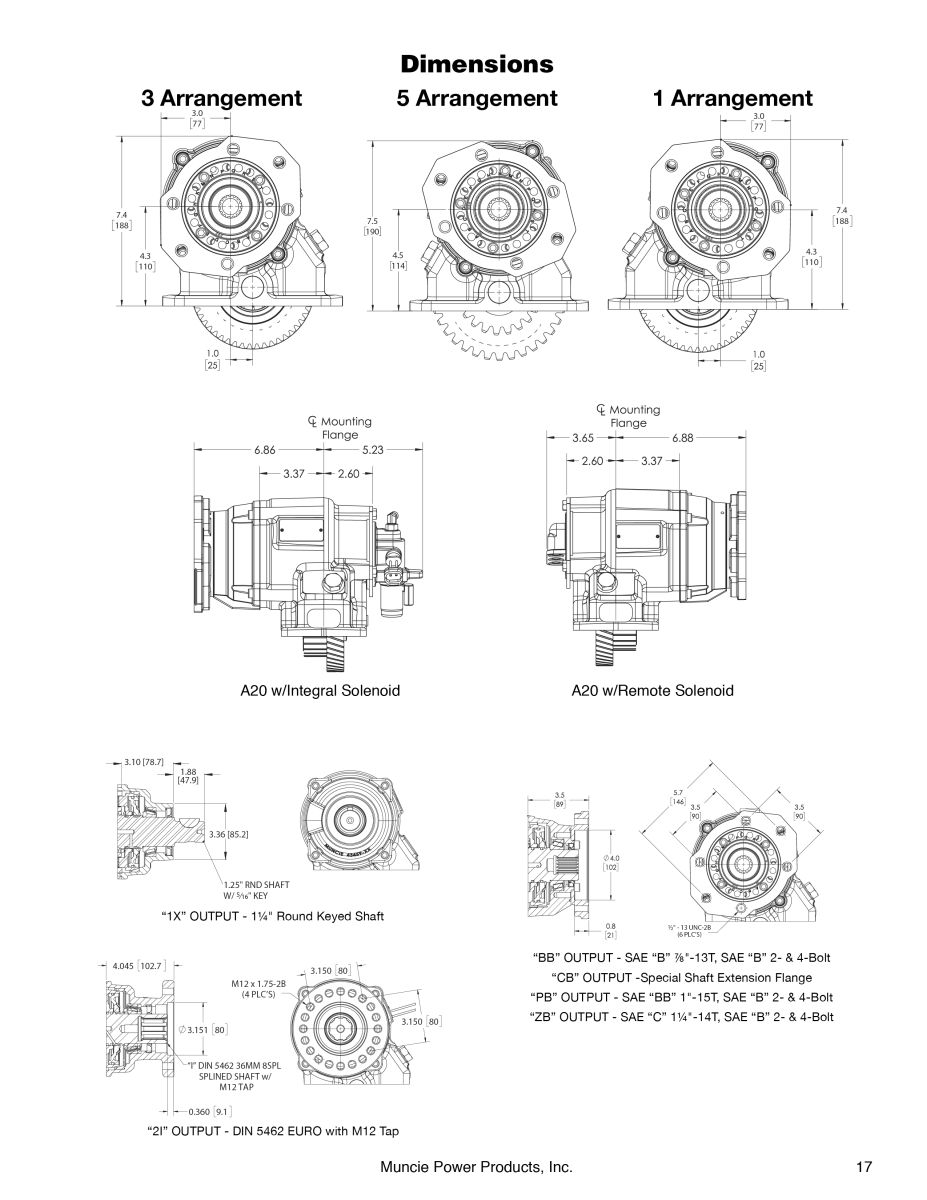 FIGURE 5
The majority of Muncie Power take-offs offer some sort of rebuild kit or gasket kit. This is especially useful for older units, aftermarket purchases, or breathing new life in to a once damaged unit. Our service parts manual shows both the kit numbers as well as what goes in to each kit. Take care to note the warranty on the PTO before considering a rebuild option. View our warranty information here.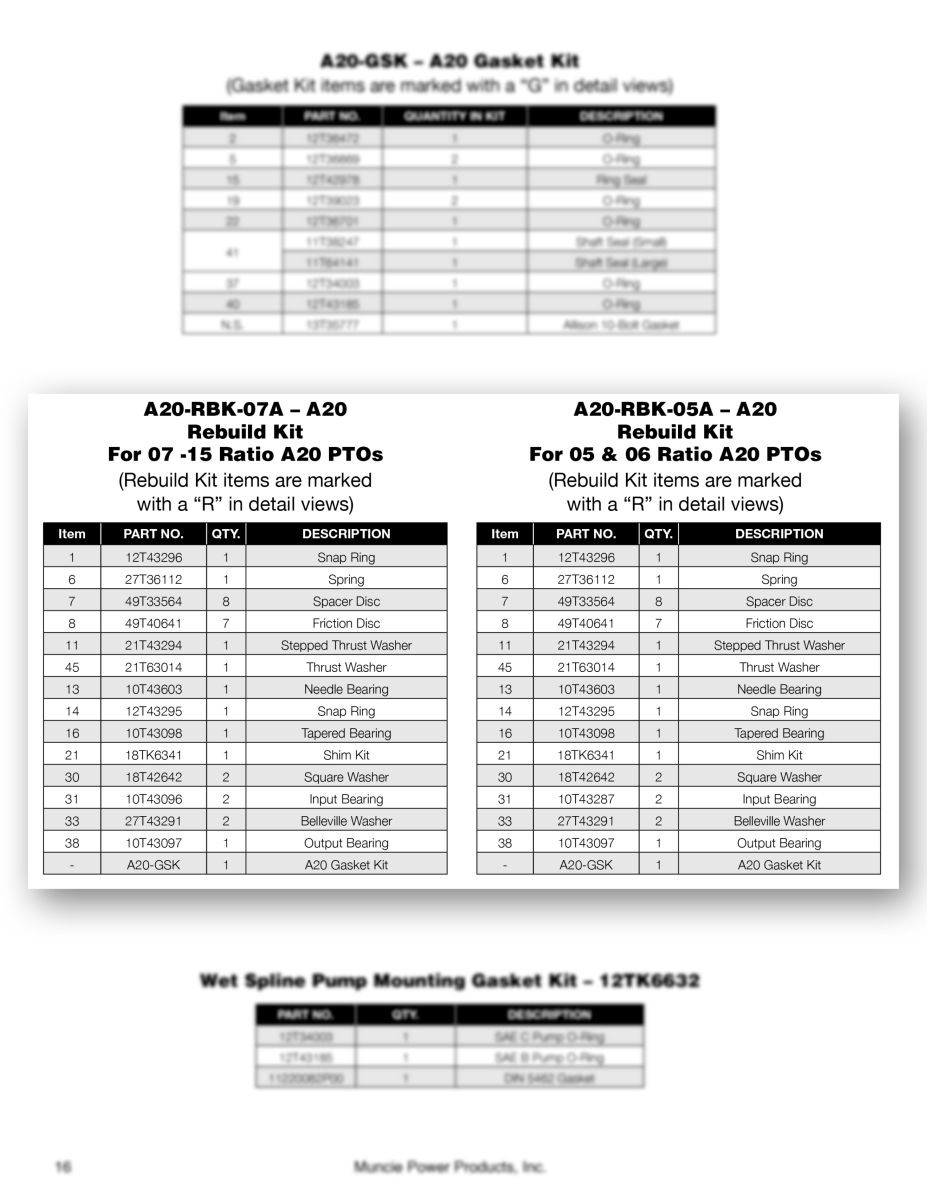 FIGURE 6
Here are three steps to access our service parts manuals for PTOs:
First, go to the product's landing page; for example, the A20 Series. These can be found in the Power Take-off drop boxes under the header.
Second, once on the product landing page, you'll notice a handful of tabs across the center of the page including: Key Features & Benefits, Literature, Specifications, etc. Click on Literature.
Finally, in red bold lettering, you'll notice service parts manuals. Under this section, you'll find the Service Parts Manual for that product. Click the red View/Download button to the right.
It's important to pay close attention to which service parts manual you reference. Depending on which PTO you are working on will depend on which manual you need. Additionally, some PTOs have multiple service parts depending on the build date.
The next time you're in search of a part number or need a visual on an activation kit, give this feature a shot. You may find it to be a quicker solution than the route you've taken in the past. If you are having trouble understanding the parts manual, give our customer service team a shout for clarity.
RELATED ARTICLES: